6 policemen gone missing, 3 chambers burnt down in AA offensive at Rathidaung border police outpost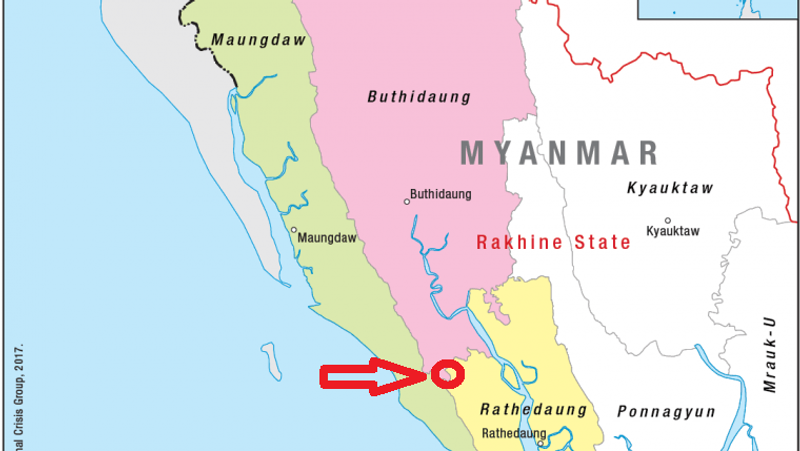 Narinjara News, 30 May 2020:

At least six police personnel along with three civilians went on missing after a group of Arakan Army (AA) members attacked a border guard police outpost in Rathidaung, 20 miles north of the State capital city of Sittwe on Friday. The incident resulted in burning down three chambers also.
The Myanmar military (Tatmadaw) spokesperson Brigadier-General Zaw Min Tun admitted that the police personnel remained untraced as the AA members targeted the Thazin Myaing border guard police outpost located at north-west of Rathidaung township at around 2 am.
Around 200 heavily armed AA members attacked the outpost from
north-eastern direction, he added.
A local villager of Thazin Myaing informed that AA members launched the attack in the early hours and it continued till 3:30 am.
"The AA offensive lasted only for one and half hour. We could hear the sound of heavy arm-firings and saw smoke in the sky roused from the outpost," he added.
Thazin Myaing Model village has 40 house-holds and it was established by the military government in 2000. All the villagers left their places to take shelter in nearby villages like Thein Daung, Kyauk Yan and Zaydi Byint.
Quoting AA spokesman Khaing Thuka, the RFA (Burmese) reported that their members succeeded in detaining nine police personnel and seizing 14 arms including a rocket launcher. AA is expected to issue a statement with details of seized arms & ammunition, arrestees and casualties.
It may be mentioned that AA members had attacked several police outposts since last year. On 4 January 2019, the outfit launched attacks on four border guard police outposts under Buthidaung township. They also targeted Yoe Tayoke police station in Ponnagyun township on 3 March and a battalion near Koethaung temple in Mrauk-U locality on 10 April 2019.