Five people injured in shelling in Rathedaung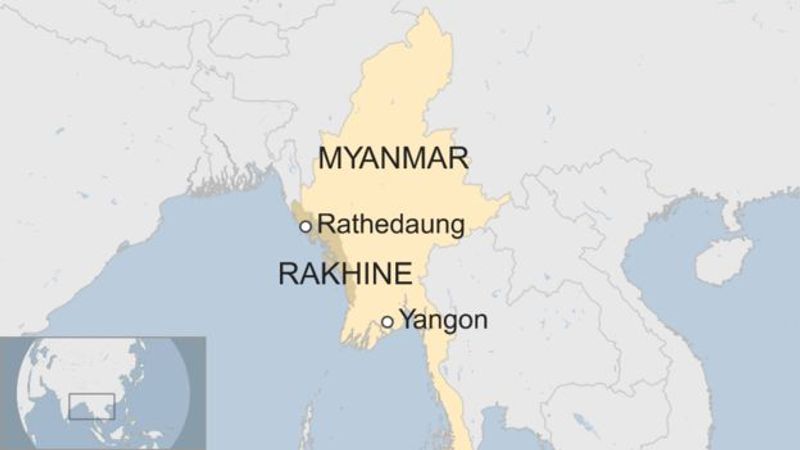 Ein Soe Hpyu

Narinjara News, 2 June 2020
Five people were injured after shells landed and exploded in villages close to Zay Di Pyin, Rathedaung Township. The shelling occurred at around 8pm on May 30. One mother was amongst those injured.
Amongst those injured includes Ma Myo Thu Zar, aged 23, from Sa Poe Kyun village, 9th grade student Maung Kyaw Win Tun, 18-year-old from Aung Zay Kone, U Maung Than Tun, aged 41 from Kan Pyin IDP camp. Two people are from Doe Way Chaung – 9th grade student Maung Nyein Than, aged 16 and Ko Soe Hlaing Tun, aged 26.
One person who carries out benevolent work in Zay Di Pyin spoke with Narinjara about the incident. "We sent the three people who were hit by shrapnel to hospital", he said yesterday at around 10.30pm. He explained that when the shelling took place they were carrying out relief work, and people from four villages were running to try and find shelter. They were able to rescue some people by boat and take the injured to Zay Di Pyin station hospital.
U Hla Hpyu Zan, father of Soe Hlaing Tun who was injured in the attack, accompanied his son to the hospital. "There was a boat coming up the Mayu river that was firing shells. The village is far away from the river, but they got hit by the shrapnel. We had gathered together and were hiding in monastery, and it was there that a shell exploded – it hit a tree and the shrapnel flew off and hit the children. The child from Aung Zay Kone was just visiting the village and was hit. What can I say? We wont forget what happened here," he said.
Aung Zay Kone village administrator said "two boats started shelling from the Mayu river near Sa Poe Kyun. People were terrified and stared to run, and one girl was hit. I heard one of the men from Kan Pyin IDP camp was also hit in the forehead. There was no fighting. All of us from our village had gone to hide in the forest" he said.
Aung Zay Kone village has a population of 64 households, over 800 people. Most people have already fled, with just the elderly and a few others remaining behind, he explained. In Doe Way Chaung there are 67 households, and a population of 366. The entire village had sought refuge in the monastery.
Rathedaung township Pyithu Hluttaw representative Daw Kin Saw Way said "there were no clashes or fighting. The villages said they were just shooting blindly, just shooting at anything. They were thinking about sending the injured to Rathedaung hospital but they will stay in Zay Di Pyin. Three or four of the injured are in Zay Di Pyin station hospital" she said.
Numerous attempts were made to contact the Tatmadaw True News Information Team secretary, Brigadier General Zaw Min Tun concerning the incident however he did not respond and we are unable to report the Tatmadaw's opinion.
According to the Rakhine Ethnic Congress at least five people were injured after military boats sailing the Mayu river in Rathedaung shelled the area at around 9.20pm today. The statement listed the names of those injured and where they are being currently treated.