Shelling in Sittwe township kills one elderly woman and injures five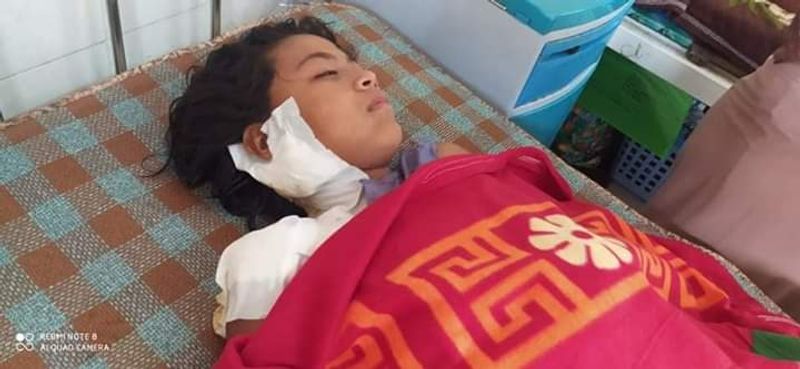 Ein Soe Hpyu
Narinjara News, 10 June 2020
One elderly woman was killed and five people were injured after fighting between Tatmadaw navy boats and AA members broke out near Ah Myint Kyun village in Sittwe Township. Three women were amongst the injured including a 7th grade student. The shelling took place close to Min Chaung Bridge just after midnight this morning.
Daw Kyaw Kyi Ma, who was over 90 years old was killed in the shelling and 7th grade student Ma Nandar Win, aged 14, U Maung Ka Lein, 41, Daw Ma San Ree, 43, Daw Moe Nu Sein (60), a police official were injured.
Ma Aye Aye Kiang, the aunt of injured Ma Nandar Win explained what had happened. "Late last night I heard two explosions from the direction of Min Chaung bridge. At first I thought it was thunder, then I heard gunfire so we ran and hid under the house. For the elderly woman who died, her family ran to hide under the house but they left her behind. A shell fell on their house and killed her. She was hit on the right side of her stomach. Nanda Win was sleeping on the veranda when it happened. She screamed when she saw blood rushing out from her shoulder" she said.
Local villagers have helped organise Daw Kyaw Kyi Ma's funeral. Ma Nandar Win suffered shrapnel injuries to her shoulder. U Maung Ka Lein had shrapnel wounds to his ribs, Daw Ma San Ri had injuries to her cheeks, and Daw Moe Nu Sein was injured on her forehead, Ma Aye Aye Kiang explained.
"One of Maung Ka Lein's relatives is in the army so they were able to get him to hospital (in spite of the curfew). But even then I heard he only got the permission after 3am to go to Sittwe hospital. They came to collect Nandar Win at around 5am. The other two women were not so badly injured and are being cared for here by the nurse" she said.
One person from Ah Myint Kyun village who wanted to remain anonymous spoke about the event. "I heard shooting last night near to Ah Myint Kyun police station. After that two navy boats started shooting. Some houses have been destroyed, I think four or five houses. I went to see Daw Kyaw Kyi's house, the roof has been blown open in the explosion. I don't know if there was an exchange of gunfire, I just heard the sounds of shooting and crouched in fear under the house," the person said.
The Tatmadaw True News Information Team secretary, Brigadier General Zaw Min Tun did not respond to calls concerning the incident.
Police Colonel Aung Naing Win for Sittwe Township and the Sittwe township administrator were not unavailable to provide further information about the shelling.