Four people from Ann and Maebon released after being held for nearly a year on terror charges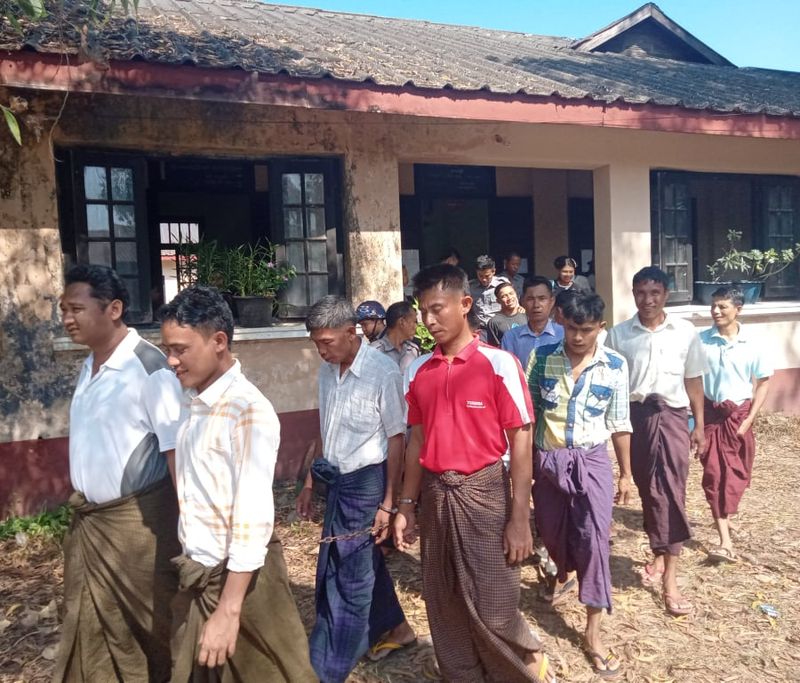 Ein Soe Hpyu

Narinjara News, 23 June 19 2020
Four men from Maebon and Ann townships have been released due to insufficient evidence, the district court in Kyaukpyu decided on Thursday.
They had been detained on terror charges for nearly a year.
The released men from Ann Township are Thein Kyaw Tun, aged 30 and U Than, aged 23, both from Thalaw Maw village; U Tun Thein Win (32) from Ru village. Hla Tun Chay aged 31 is from Mya Tae Taung village, Maebon Township.
Ko Hla Tun Chay's wife Ma Aye Aye Than said, "Obviously we are happy he has been released. They arrested him in connection with the AA. When my husband arrived in police custody he had been hospitalized for about a month and a half with injuries he'd received in during the interrogations. You could see the bones on both his arms, it was gangrenous. He really suffered. And yesterday they said he was innocent and released him" she said.
Daw Lin Lin Khaing, a senior lawyer representing the men explained that they had attended court seventeen times and the judge had released them due to insufficient evidence linking them to the AA.
"The judge freed them. They had been facing charges under section 52 (a) (of the counter terrorism law). There was a court hearing on June 18 and they were released as the prosecution put forward an invalid testimony.
The four had been arrested along with six other people in connection with a single case. The remaining six are still being held under the counter terrorism law of sections 52 (a) 50 (j) as well as other charges she added.
Between November 10 and 11 of last year Tatmadaw troops arrested five people from Yaw Chaung and two from Peinni Taung in Maebon, two from Thalu Maw and one from Ru villages in Ann, family members said.
The ten were then transferred to police custody on November 19 and taken to the police station in Ann town for investigation with the four amongst the ten now released.