Five civilians wounded in Rathedaung township within two days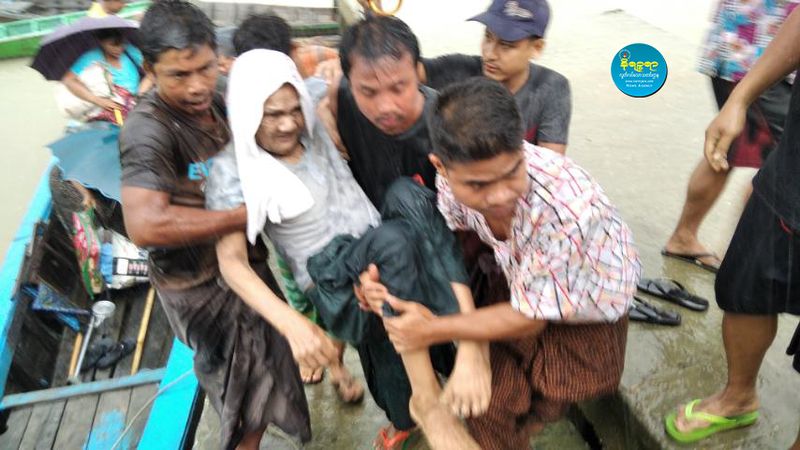 Narinjara News, 6 October 2020

Five civilians were wounded by the artillery shells within two days (5 and 6 October) in Rathedaung township, 20 miles north of Rakhine capital city of Sittwe.

Four persons including one grandson and his grandfather were injured at Pyin Wun village. Another young man and his father were wounded at Kan Pyin village located west of Mayu river as the artillery shells exploded at around 7 am today.

The victims were identified as Maung Myo Thant Zin (10 years old) and his grandfather U Maung Soe (93) from Pyin Wun village. The two others are Maung Nyein Chan Aung (13) and his father Aung Than Sein (52).

U Maung Soe's son U Shwe Ni Maung informed that Mayu river is only two furlong away from the village. Four navy vessels along with two small speed boats were sailing to the upper reach of Mayu river with continuous gunshots.

The artillery shells hit the roof of their house and finally injured both his father and his son, said U Shwe Ni Maung adding that both his father and son received injuries at their abdomens. They are now taken to Zaydipyin station hospital for necessary treatments.

The other two injured individuals are now treated at their village as their injuries are relatively minor in nature.

Kan Pyin village administrator informed that more than 10 artillery shells were exploded inside Kanbyin village-tract. The shells also damaged the Dhama hall and some other houses.

Affected villages namely Pyin Wun and Kan Pyin are situated at the western side of Mayu river. On the other hand, Kan Pyin and Aung Thar Si villages are located on the opposite side.

Two artillery shells also fell on the houses of U Ba Han and U Kala Yay at Zaydipyin village this morning, which is near to Pyin Wun and Kan Pyin village, however no one sustained injuries, a local informed to Narinjara News.

Daw Khin Saw Wai, a Pyithu Hluttaw member from Rathedaung township, confirmed the incident.

"Even though there was no fighting in the locality, four persons were hit by the artillery shells. Many villagers contacted with the fear of unexploded artillery shells in their houses," she added.

Gen Zaw Min Tun, a spokesman for Tatmadaw True News, was contacted by Narinjara News several times but he was not available for comments.

A 76-year-old man from Kan Pyin village was injured as a piece of shell hit from a navy vessel in Rathedaung township yesterday morning and he was rushed to Sittwe hospital from Zaydipyin station Hospital.

Armed conflicts in Rakhine State continue which compelled the elderly people, women and children to flee their homes. Many of them even died in various incidents. Various conflict watchdogs have criticized the authority for the rising number of casualties.