Heavy fighting in northern Rathedaung township between Tamadaw and AA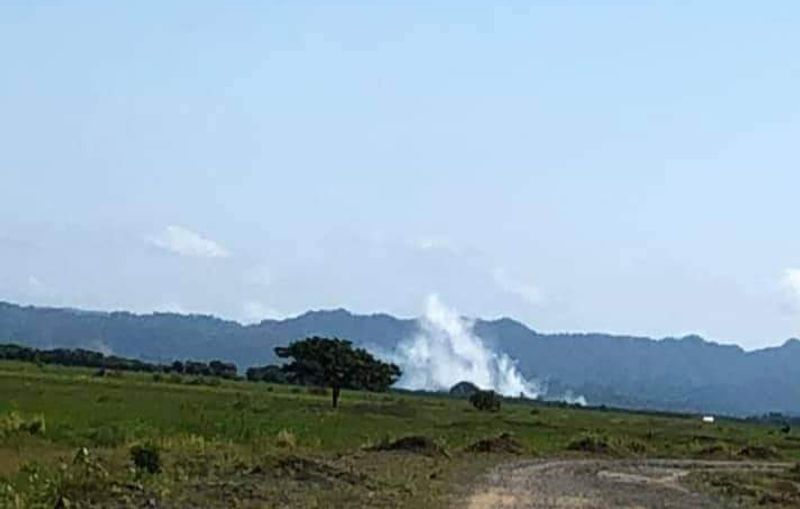 Khaing Lu Hla (Roma Mray)

Narinjara News, 13 October 2020
Tatmadaw with its army, navy and air forces have been attacking a strategically important hill, where Arakan Army (AA) remains active,since today morning.

The locality is near to Aung Thar Si village in Kyauk Tan area, 10 miles north of Rathedaung township, reveal local reports.
Starting at around 7 am today, the battalions based in Rathedaung, Rasoe Chaung army tactics, military based in Htee Swe village and Buthidaung bridge fired heavy artillery shells over the hill areas.

At around 9:30 am, two fighter jets were seen flying and also bombing the area.

By 10 am, local people saw a spiral of smoke rose to the sky from Aung Thar Si and Kyauk Tan village.

A resident of Thaungdara village informed that the gunfire was heard after the fighter jets returned back. The jets dropped the shells for nearly 20 minutes and then disappeared.

"In the morning hours, two jets were seen bombing the area. It was around 9:40 am. Rathedaung based battalion no 536, 537 and 538 fired heavy artillery shells in the area. Similar actions were also seen from navy vessels on Mayu river. Till 10 am, we could hear the sound
of shelling," added the local villager adding that the fighting continued till 4 pm where both the jets stroke at least three or four times.

Daw Khin Saw Wai, a Pyithu Hluttaw (People's Assembly) member from Rathedaung township, confirmed the incidents of heavy fighting where Aung Thar Si village was put on fire.

"I am in Rathedaung now. The fighting intensified since today morning. Aung Thar Si village is on fire due to artillery shelling. Civilians were not harmed as they were fleeing their village," added the lady.

According to a statement issued by the Tatmadaw, the security forces attacked the area near to Htee Swe village on 4 October.

Later Arakan Army claimed that it seized the hill area with a large amount of weapons within 24 hours.

The hill near to Aung Thar Si is located over the Rathedaung-Buthidaung highway motor road and strategically it is very important for both Tamadaw and AA members.

Elderly people say that the Kyauktan area in northern side of Rathedaung township was also hit by the British and Japanese armies during World War II.