Two teenage girls, a villager injured in Minbya firing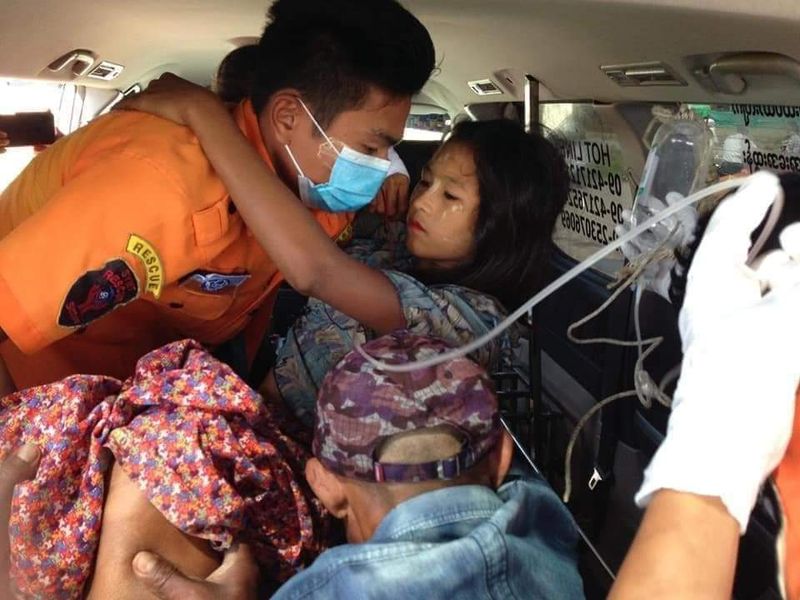 Khaing Lu Hla (Roma Mray)
Narinjara News, 30 October 2020

Two teenage girls and one elder from Sakha Ray village under Minbya township, located in the central part of Rakhine State, were injured on Thursday by the reportedly firings from two navy vessels while sailing over the Balipauk river.

Injured individuals were identified as Ma Than Than Soe (14 years old), Ma Htay Htay Wai (13) and U Aung Kyaw Nu (60).

A local villager named Aung Tin Win informed that the navy vessels were sailing towards Minbya from Sittwe at around 8 am. The villagers got scared of many gun-shots and took shelter in their houses. The villages on the banks of Balipauk river between Minbya and Sittwe witnessed the artillery shelling.

The injured individuals were already taken to Pauktaw township hospital.
Sakha Ray village administrator Maung Nyunt Chay confirmed the incident and informed that injured persons were being treated at the hospital.

The shells hit a number of villages. The navy personnel fired the shells without any provocation. Some houses were also damaged due to the shelling. One artillery shell fell near Maung Ba Thaung's house which fortunately did not explode.

The village administrator also added that there are over 180 families in Sakha Ray village where at least six houses were damaged due to shelling.

Another village named Kyar Ye Pyin also witnessed the damage of 25 houses because of the shells.

"The incident took place just before 8:30 in the morning. Two navy vessels and a small guard boat were sailing over the river. Suddenly they started the shelling of artilleries that hit Kyar Ye Pyin village. 25 houses houses including U Maung Nyo Aung and U Pho Thein Chay were damaged by the bullets. Two buffaloes also received injuries," said a villager.

Hla Thein Aung, a State lawmaker from Minbya township, confirmed that three persons were injured in the incident. The villagers alleged that the navy personnel fired the shells targeting their places. Days back, a group of Arakan Army members attacked the navy vessels while sailing over the river. But there was no fighting in the area on Thursday.

Narinjara News tried to contact General Zaw Min Tun, the chairman of Tatmadaw's True News, for his comments over the matter at around 10:20 am, but did not receive any response.