Dumb, deaf and blind IDP injured in blast near Rathedaung town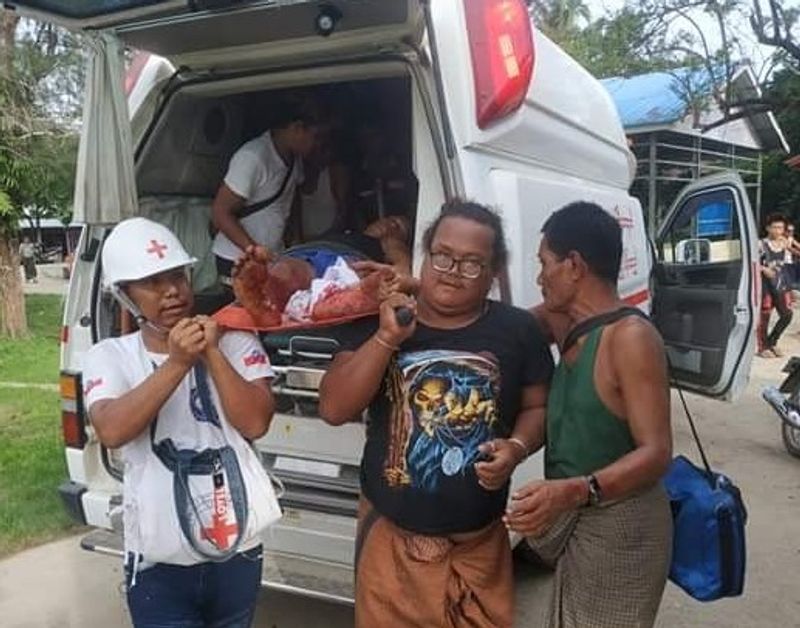 Ein Soe Hpyu

Narinjara News 25 June 2020
A deaf, dumb and blind IDP staying in Shwe Parami monastery in Rathedaung town was hit by shrapnel this afternoon around 4pm following shooting close to Rathedaung town, Rakhine state.
U Maung Aye Nyunt, 55 and from Nyaung Pin Hla in Rathedaung but currently staying in Shwe Parami monastery was injured from shrapnel from a shell blast.
Shwe Parami monastery abbot spoke about what had happened. "He was hit while crouching under the shelters where the IDPs stay in the monastery grounds. We heard two explosions. Then there was the sound of shelling and rifle fire. His mother cried out and ran to tell him. Myself and the other monks here were unable to go out and check on what had happened immediately. We all had to take cover while they were shooting. His left leg below the knee was all smashed up. He has been put on in the ambulance and is on his way to hospital. Soldiers have set up an ambush close by, they're still there," the abbot said.
Shwe Parami monastery is located to the east of Rathedaung town close to the bridge going to Ponnagyun on the Yangon-Sittwe road. The shooting occurred about two miles away from the monastery.
Daw Oo Sein Nyunt, mother of the injured man talked about what had happened to her son. "He's deaf, he can't hear. He can't speak and he's blind. He has to live with us, we're his family. It came through the roof and hit him while we were hiding under the tent. It hit him in the leg. I can't tell you how I feel," she said.
Tatmadaw battalion no. 538 is located close to where the shooting occurred, and according to villagers Tatmadaw troops were moving in a patrol towards Pyae Chaung Gyi village when the shelling and shooting started. Shells landed and exploded in villages nearby as well as in Rathedaung town, locals said.
Ko Bekkha who carries out social and charitable work in Rathedaung town was contacted by phone and said that he was able to transfer the injured man to Rathedaung hospital.
"We have sent the patient to Rathedaung hospital. The bone in his leg is all smashed up. I think they will have to amputate. He can't be transferred to Sittwe hospital as its still not safe to travel, so we will have to wait and see," he said.
Rathedaung township National Assembly representative U Khin Maung Lat confirmed what had happened. "They were shooting 400 or 500 yards from Rathedaung town. One person in Shwe Parami monastery was hit. He was sent by ambulance to hospital, which is where he currently is," he said.
There are around 1,700 IDPs sheltering in Shwe Parami monastery. Although the sound of shooting stopped at around 5pm, residents in Rathedaung town remained fearful that fighting might begin again.
Narinjara has not been able to contact the Tatmadaw True News Information Team secretary, Brigadier General Zaw Min Tun concerning this incident.