Intense fighting in Kyauktan follows military's clearance operation announcement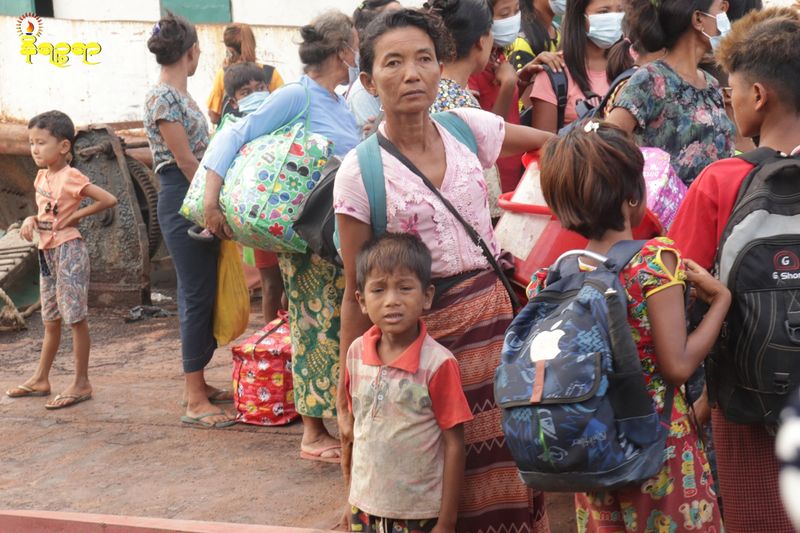 Khaing Lu Hla (Yoe Ma Myay)

Narinjara News, 28 June 2020
Intense fighting between the Tatmadaw and the AA is taking place in Rathedaung township, with fierce battles close to Aung Thar Si village commencing June 26 morning and continuing through to 11pm.
This follows the Tatmadaw's announcement on June 24 that clearance operations would be carried out in the Kyauktan area of Rathedaung township.
According to a village administrator in the area fierce fighting occurred close to Aung Thar Si village after a Tatmadaw troop column left Htee Swe village.
"The fighting started in the morning at around 11 or 12 o'clock. It has been really intense. Its taking place on the hill close to Aung Thar Si. The sound of gunfire could be heard until 5 or 6pm. You can hear the sound of artillery in Rathedaung town. It is still not exactly clear what is happening," he said.
People living in the Kyauktan area had been ordered to temporarily evacuate their homes while the Tatmadaw conducts clearance operations in the area, according to a directive issued from the Rakhine state Ministry of Security and Border Affairs. The order was officially notified to respective village-level administrators via the township administrator on June 24.
Intense fighting has begun one day after the directive was issued, with most residents in the area evacuating their villages and heading for the relative safety of Rathedaung town.
Rathedaung township administrator U Aung Myint Thein was contacted concerning the fighting but he said he was too busy to be interviewed. However, his personal secretary confirmed that people were fleeing towards Rathedaung town.
"I have heard that people are fleeing from the Kyauktan area. We are obviously aware of this. I understand that there has been clashes in that area, although we still don't know the precise details. Discussions are being held amongst the administration about how to respond to those who have fled," he said.
Ma Ma Chay, whose home is in Kyauktan village but arrived in Rathedaung town today spoke about what was happening. "They are shelling the area. They were shelling from Htee Swe Kyauktan as well as from Rathedaung town. People from Sauk Kat, Aung Myay Kone, Kyauktan, Line Gwin, La Mone Taing are coming to Rathedaung town. They're coming now. Its impossible to estimate how many there are, we still don't know. Over ten thousand people have arrived in Rathedaung town. The government has done nothing. We are having to send rice parcels out from the town," she told Narinjara.
Most people displaced are from Kyauktan, Ye Poke, Sauk Kat, Htee Swe, Aung Thar Si, Line Gwin, La Mone Taing, Ma Hnin Taung, Ye Myat, Kone Tan villages as well as other settlements, according to one school headmaster who has also been displaced to Rathedaung town.
Rathedaung township national assembly representative U Kin Maung Lat said "fighting took place today in the Kyauktan area. People from the Htee Swe area are fleeing as well. People from Kyein Thar have arrived in Rathedaung town. I think over 15,000 people have been displaced within two days, and they have come to Rathedaung town. It was difficult supporting those that were already in the town before, its going to be even harder supporting those that have just arrived," he said.
On June 8 the Rakhine Ethnic Congress announced that there were over 150,000 IDPs in Rakhine state. However they have warned the current fighting will mean that the number of IDPs may well increase.