Elder killed, three women injured in Rakhine shootouts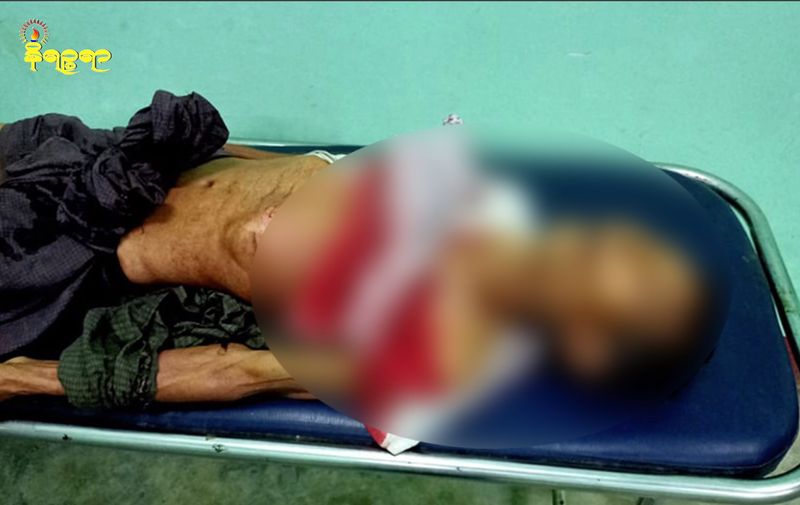 Narinjara News, 13 July 2020

Two incidents of shooting in Arakan State on 11 July resulted in the killing of a 70-year-old man and injuring of three women. Both the incidents took place at northern Arakanese localities of Ponna Kyunt and Rathidaung on Saturday.

The deceased has been identified as U Shwe Thar from Ponna Kyunt township. One of the injured individuals is identified as Mananda Oo (13). She also hails from the same township.

Other two injured women are Daw Ma Than Win (50) and Daw U Than Khin (37), who hail from Aung Bala village under In Rathidaung township.

Ma Aye May, daughter of U Shwe Thar stated that both sides (Tamadaw and AA) were engaged in firings.

"As I heard the sound of gunshots, I was helping my mother to come down from the house. I also brought the children to the cave. Then my father uttered that a bullet hit him. He died on the spot," added Ma Aye May.

U Tun Maung, an upper house Parliamentarian from Ponnagyun township confirmed that U Shwe Thar died of bullet injuries at his breast. On the other hand, the girl (Mananda Oo) sustained injuries at her right leg.

"The shooting lasted for around half an hour. Tamadaw personnel were firing from the Kin Taung hilltop. I could hear the sound of heavy firings. Presently the injured girl is recovering in the hospital," added the lawmaker.

Rathidaung incident took place by 2:45 pm on Saturday, following which Ma Than Win was admitted to Sittwe general hospital, said Daw Ma Nyo, a relative to the injured lady.

She also added that both the injured women live in a house on the outskirt of their village. The military people used the paddy field to move around. As the shooting started, a bullet hit both Ma Than Win and U Than Khin partially.

There was no immediate communique from Rakhine government, Security and border affairs minister Colonel Min Than and the military information secretary Brigadier General Zaw Min Tun over the incident.

Local social organizations claim that at least 250 civilians were killed and nearly 600 got injured in the series of Tamadaw-AA conflicts since beginning of 2018 till date.