Main road shut with helicopter gunship and fierce fighting close to Mrauk Oo,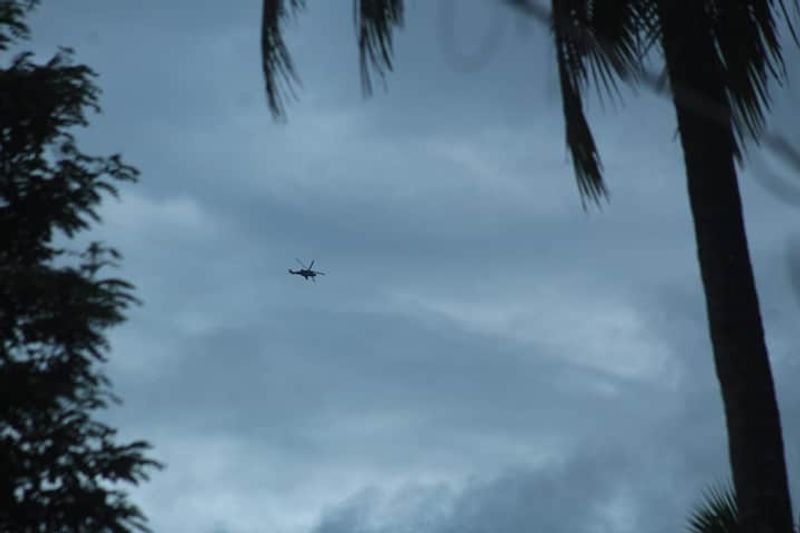 Kaing Lu Hla (Yoe Ma Myay)

Narinjara News, 31 July 2020
Two military helicopters carried out strikes yesterday afternoon after fighting occurred near to Okepawkan village north of Mrauk-Oo, according to local eyewitnesses
Speaking to a villager from Tamarize village, "They fired machine guns. There were two military helicopters. They also dropped these large round things. They were shooting into a field, close to the place we call the Red Pagoda farm ground. They came at about 2:30 in the afternoon and left at about 3 o'clock, "he said.
The villagers of Tamarize said they were scared because they hear loud gunshots so they hid in bomb shelters under their homes.
Fighting took place near the Red Pagoda farm ground from 5am until noon and was followed by strikes involving two Tatmadaw helicopters in the afternoon.
"I could hear it happening in the morning near Thayetapin near the Red Pagoda Farm. No one dared to go and see what was happening. We heard nothing but gunshots. Traffic has still stopped, "he said at 4 pm.
A villager from Pipinyin said, "Our village is about three miles from where it was happening. Helicopters were seen continuously hovering just over the fields and firing. They fired for about 30 minutes and then returned, "he said.
Due to heavy fighting, traffic on the Sittwe-Yangon highway was suspended until the night, according to locals.
Mrauk-Oo Township State Hluttaw Representative U Tun Thar Sein said, "Locals said that two helicopters came at around 2:30 pm. We don't know what kind of helicopter it is, "he said.
He said the strikes took place more than a mile north of Mrauk-Oo, between Mrauk-Oo and Okepawkan village on the Yangoon-Sittwe highway.
The secretary of the Tatmadaw's Truth News information unit was not available for comment.