Four killed including two children and a schoolteacher after artillery strike on Myebon village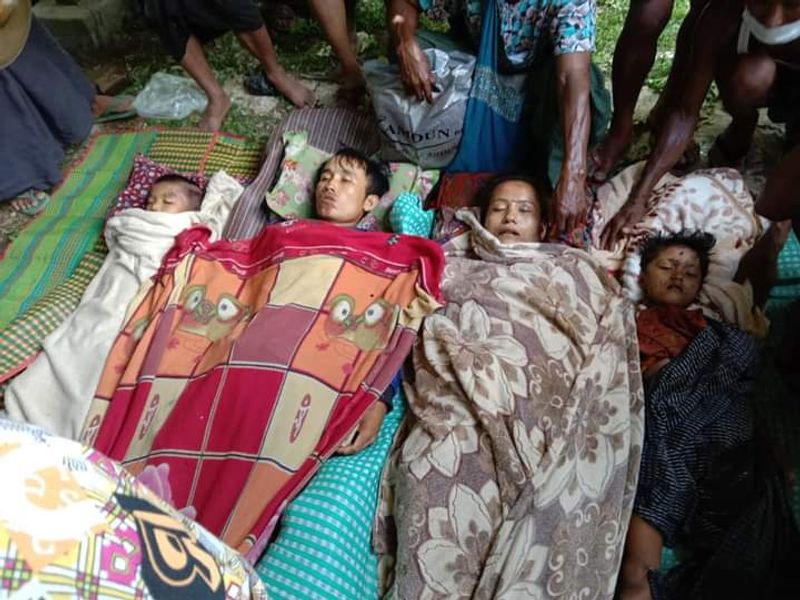 Saung Zar Kyi
Narinjara News, 9 September 2020
Two seven-year-old children and a schoolteacher were amongst four people killed when artillery shells hit Nyaung Kan village in Myebon Township at around 10:30 yesterday morning. The shelling has seriously injured ten others.
The dead have been identified as Daw Moe Thazin, 27, a primary school teacher in Nyaung Kan village, 7-year-old Ma Thu Thu Hein, Maung Thura Aung, also 7 and U Chan Nyein Thu, 25 and.
The injured include Ma Hnin Yu Hlaing; 22U Ye Ko Ko, 25; U Maung Maung Tun, 37; U Nyi Pu, 48; U San Nu, 58; Daw Cho Cho, 32; Maung Soe Lin Tun, 18; Daw Byak Ma Chay, 53; Daw Zin Mar, 32 and her son, a 5-year-old boy according to U San Pe, a former administrator of Nyaung Kan village.
"Our village is part of Myebon Township. The shells were fired by the army on the other side from Dalet Chaung in Ann Township. The shells fell into the village. They fired three times. Each time they fired, there are two white puffs. Three shots were fired so six shells fell into the village. The children were on their way to school when they were killed," U San Pe, former village administrator, told Narinjara.
The military camp is located in Ann Township, about 7 miles east of Nyaung Kan village. This is the first such shooting at the military base, U San Pe added.
U Kyaw Thein Maung, the father-in-law of the deceased teacher Daw Moe Thazin, said, "Moe Thazin is my son's wife. She was hit just below the ear and it went through and exited by her breast. My grandson was hit and his intestines came out. He was sitting at home when a shell fell on him and he died instantly. Now that this has happened, I have nothing to speak about. The Myanmar army fired the shells. Will they continue to fire from afar at us, the Rakhine people, our sons, our grandchildren, our roots? I want to know if they are going to continue kill like this," he told Narinjara.
Major Gen. Zaw Min Tun, chairman of the Tatmadaw's Truth News information unit said he had not yet received the information concerning what the villagers and the families of the victims have said that the shelling was carried out by the Tatmadaw.
"I have not received any news about this yet. I still have an incident that happened this morning in Buthidaung, "said Major General Zaw Min Tun.
The military has not yet commented on the shelling, and its response is not yet known.
Those injured suffered serious wounds to the legs, arms and back. At present, the injured are being transported by motorboat to Kandaunggyi District Hospital in Myebon Township, the former village administrator said.
According to locals, prior to this morning, no fighting had taken place near the village.
U Aung Win, a member of the State Hluttaw of Myebon Township, was contacted by Narinjara about the incident. He said he was away on business and was unaware. He said he would investigate the matter and would contact Narinjara when he had further details.
U Pe Than, a Pyithu Hluttaw member from Myebon Township, said, "the village is close to Ann Township. Artillery shells fell on the village. There was no fighting today. There has been no fighting in the area before. Civilians say the military camp fired from the mountain in Ann Township. There is no stronghold of the AA camp in the vicinity. There was no fighting on either side," he told Narinjara.
Rakhine State Regional Minister Colonel Min Than was contacted but could not be reached for comment.
The village has 370 houses and a population of 2018.