50 fishermen, their families gone missing in Kyaukphyu Township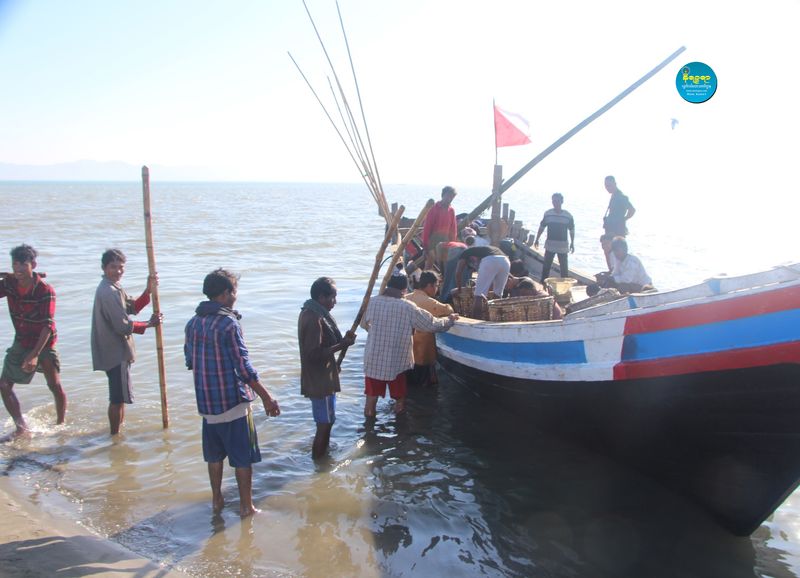 Chaining Lu Hla (Roma Mray)
Narinjara, 6 November 2020
Around 50 fishermen along with their families have gone missing since 2 November, residents of a small fishing village under Kyaukphyu district in Rakhine State informed.
The fishermen hail from Shwe Hin Thar ward of Sanay town under Kyaukphyu township.

The daughter of U Nyi Nyi, one among the missing persons, said that they were staying at Kyun Taung fishing village in Kalapon islands under Rambree township.
"I always get phone calls from my family members. But since 2 November I have not received any call. The fishing village remains empty. A number of women and children are also included in the missing team. We are worried about them," she added.
A joint operation by the Burmese army and navy personnel is underway after the Arakan Army members reportedly arrested two Tatmadaw officers in the area.
The fishing village is located about five miles away from Sanay town. The affected family members have not complained to the police.
U Kyaw Lwin, the Rakhine State Hluttaw representative from Kyaukphyu township number 1, said that he was meeting the relatives of missing fishermen at their homes in Shwe Hin Thar ward of Sanay town.
The relatives informed that they found nobody in the fishing port. But the team should have around 50 fishermen and their family members.
They also claimed that gunshots were heard from the area. However, he admitted that the cause of their disappearance was not known to him.
Many villagers alleged that an armed group might be responsible for their disappearance, revealed U Kyaw Lwin adding that it was a very important matter and he would pursue the development with higher authorities.
The Burmese military spokesperson and also the township authorities were not available for comments over the incident.