Six people, including two children, injured as artillery shells hit Ann township village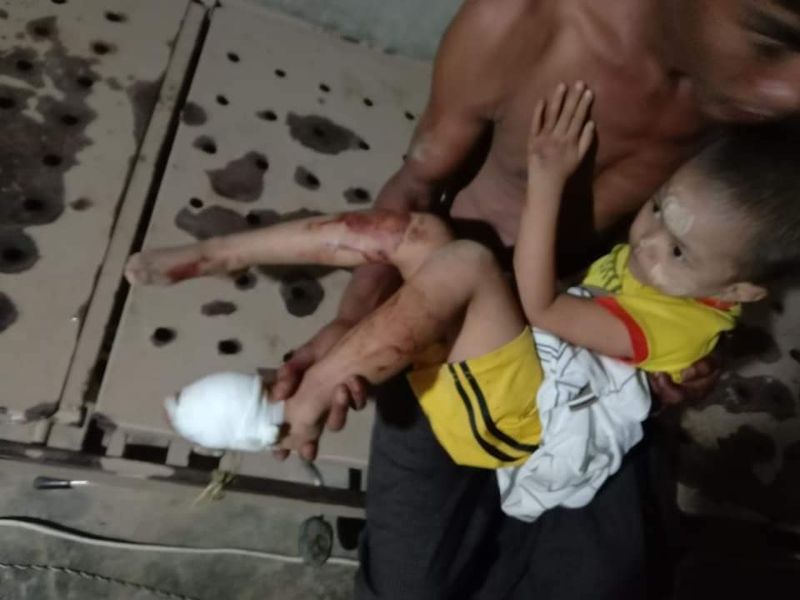 Khaing Lu Hla (Roma Mray)
Narinjara News, 11 November 2020

Six villagers, including two children, were injured in the incident of artillery shelling over Shaukkon village under Ann township in Rakhine State.

The injured individual were identified as Ma Toe Toe (4 years old), Maung Lin Lin Chay (6), Maung Maung (13), Maung Hla Min (15), Ma Tin May Noe (31) and U Khin Maung (54).

"The artillery shells fell over by 7 pm yesterday. For the whole day, the security personnel at Kha Zukaingn outpost were firing shells. The villagers went on hiding underground since the morning hours. One artillery shell fell on a monastery and another inside the village," said Maung Cherry, a writer based in Kandaunggyi town.

According to locals, heavy artillery shells were poured after the fighting broke out near Kazukaing village, a few miles away from the incident taking village (Shaukkon) on Tuesday morning.

Khin Maung Htay, a member of State Hluttaw from Ann township, also confirmed the incident.

"I just got the news. It is learnt that some people were injured by the artillery shells and they have been taken to Kandaunggyi station hospital under Meabon Township," he added.

As the villagers claimed that the shooting was reported from a military base, Narinjara News contacted General Zaw Min Tun, chairman of Tatmadaw True News information team at around 7 pm yesterday could find any response.

Earlier, on 8 September last, three artillery shells exploded at Nyaung Kan village in the same area that killed five persons including a schoolteacher along with her seven years old daughter. Another 7 years old child died, where ten other individuals sustained injuries and they were taken to the hospital.