Shrimp farmer hospitalized after military torture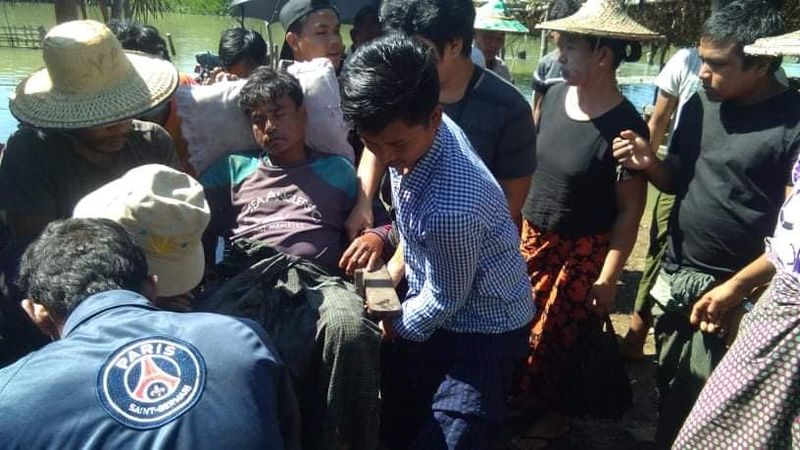 Khaig Lu Hla (Roma Mray)
Narinjara News, 16 November 2020

A resident of Ann township, who was involved with the prawn farming, was admitted to Tat Taung station hospital yesterday after he was tortured by the soldiers during interrogations, alleged his family.

Hails from Chitponma village in Kyauk Myaung village-tract of Rakhine State, Kyaw Nu Maung (48) was working at his shrimp farm when he was picked by the security forces.

His daughter Khin Hnin Wai informed that Kyaw Nu Maung was arrested by a group of ten soldiers at around 4:20 pm on 14 November.

"My father was tied with a rope and taken to the monastery of Chitponma village, where he was tortured for the whole night after covering his face," said the lady.

Next morning, as the soldiers left the village, the farmer was left abandoned inside a building at the monastery premises.

"My father is an honest farmer. His face is swollen and could not speak for some time. He felt unconscious with severe body pains. Later he was hospitalized," she added.

During the interrogation, the soldiers asked him if he was a member of Arakan Army. They also questioned what were his private number and the level of involvement with the AA.

Myo Lwin, a social worker in Ann township, said that Kyaw Nu Maung was found in an unconscious situation inside the building. The army personnel had already left for Lin Pan Kya village. Earlier they returned a phone to the abbot, which was confiscated by the army personnel.

On 13 November, an army convoy of about 200 troops arrived in Kyauk Myaung village-tract under Ann township and stated searching the villages.

There are 11 villages inside Kyauk Myaung village-tract. Many villagers left their places to avoid arrest and army interrogations.

General Zaw Min Tun, chairman of Tatmadow True News, was contacted but no response was found.