WFP to provide foods to quarantine centers in Eight Township of Rakhine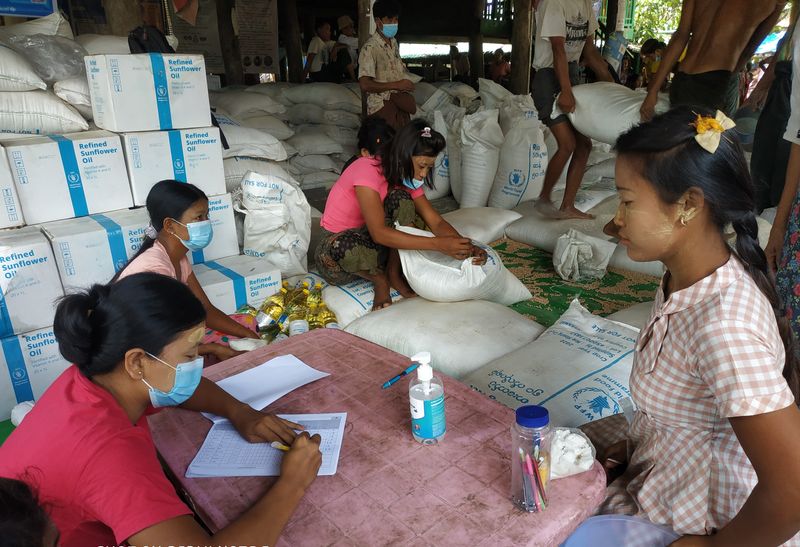 Narinjara News, 18 September 2020

The United Nations World Food Programme (WFP) agrees to provide food items to the people staying at Covid-19 quarantine-centers (under traffic surveillance) in eight townships of Rakhine State, said a statement issued on 15 September.

An agreement was signed between the WFP and Rakhine State government in the first week of September with an aim to coordinate the assistances of Union social welfare, relief and resettlement ministry (MoSWRR).

The selected eight Rakhine townships include Kyaukphyu, Kyauk Taw, Sittwe, Minbya, Pauktaw, Meabon, Mrauk-U and Ann townships which would receive the WFP sponsored three meals per day.

The WFP statement estimated that around 1,500 people were taking shelter in Rakhine
quarantine-centers.

"We are working in Rakhine since 1994 and the WFP is proud to be a partner with the local authorities in food-assistance programs along with the Myanmar government's ongoing Covid-19 responses," said Stephen Anderson, WFP's country director in Myanmar.

He also added, "We stand ready to expand our supports in need to the government as it deals with the food and nutrition necessities for the Rakhine people and elsewhere in the country."

Union minister Dr Win Myat Aye stated that the MoSWRR continued its efforts for supplying necessary assistances to the people affected by both man-made & natural disasters and the vulnerable groups in the society with the principle of 'no one is left behind'.

Till the novel corona virus outbreaks across Rakhine were within a limit till 16 August, the Union government was in constant touch with the local government in Sittwe. Various national and international humanitarian partners were also apprised about the development.

Later when the Covid-19 positive cases increased, the MoSWRR talked to Sittwe based government and the WFP for food assistances to the isolated families. The minister appreciated the WFP for its readiness to support the country suffering in the pandemic.

Now the WFP sponsored food supplies are reaching up to 200,000 conflict-ridden and other vulnerable individuals in central Rakhine and 100,000 people in northern Rakhine every month. It is also helping the government with the supply of personal protective equipments, sanitizers and infrared digital thermometers in various localities.
With its ongoing supports to returning migrants in the isolated venues, the WFP continues to provide food supplies to over 60,000 residents in various States and divisions of Myanmar.