Eleven police families including a police chief test positive for COVID and locked down in Sittwe No. 1 Police Station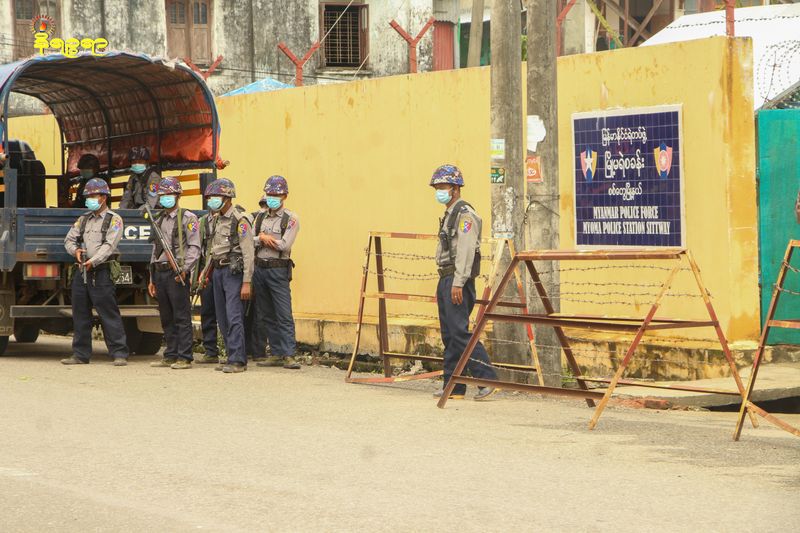 Ein Soe Hpyu
Narinjara News, 20 September 2020
A total of 11 people – policemen and their family members as well as a Township police chief, have tested positive for COVID-19 at Sittwe No. 1 Police Station. The entire camp has reportedly been locked down, with entry and exit restrictions imposed on the building.
On September 15 five policemen and six members of their family from No. 1 Police Station tested positive for the virus, including the Sittwe Township Police Chief.
The medical samples were taken from those that had been in contact with them from the entire No. 1 Police Station. The station is currently under lockdown, a police officer based there explained.
"They took samples from us. All entry and exiting from camp is restricted. We are in quarantine. Luckily, there are not many people coming and going these days. Only after the results of the tests come out will we know what to do with the camp. According to the situation, responsibility has been transferred to No. 2 Police Station," he said.
He added that the infected people were being treated at Sittwe Hospital.
The entire police station No. 1 has been locked down since September 17th morning. Cases are being transferred to the Sittwe No. 2 Area Police Station, Superintendent of Police Station No. 2 confirmed to Narinjara.
On August 27, a camp commander from Sittwe No. 2 Police Station was found to be infected with the coronavirus and the entire camp was locked down on August 28. Over the past few days duties have resumed, he said.
As of 9 am on September 19, 511 cases of coronavirus have been reported in Sittwe. According to a list released by Sittwe Hospital Superintendent Dr Zaw Lwin, 284 people have been discharged from Sittwe Hospital due to improved health.