High school students in IDP camps continue to face difficulties in enrolling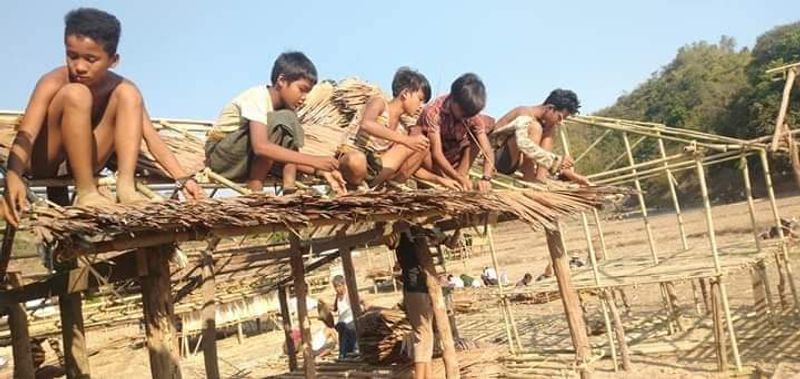 Ein Soe Hpyu

Narinjara News, 21 July 2020
Although the enrollment week was set for five days from July 13 to 17, most of the 1,300 high school students languishing in the camps for displaced persons in Rakhine state have been unable to enroll.
Zaw Zaw Tun, secretary of the Rakhine Ethnic Congress (REC) said, "There are an estimated 1,300 high school students who have been displaced by the conflict. There are no plans in place to enroll these students in school. Their parents have no money to pay the school fees. Other non-IDP students are enrolling. Schools have not opened yet but students are attending outside tuition classes. However the children in the camps cannot afford to attend. Last year there was some assistance, but we have not heard of any assistance this year. "
Daw Win May Oo from Tin Ma Gyi village, who has taken refuge in a camp in Kyauktaw said, "My daughter wins prizes every year. She has won an award every year since primary school. I want her to be enrolled in school. But I can't afford to pay the whole year, nor for the clothes, the textbooks or for the extra group tuition. There is no comfort in this kind of life. Children are asking what to do if they do not go to school. I feel bad and don't know what to say. If the schools reopen, we will have to leave, and we wont have anywhere to live," she said.
Ma Khine Myat Lin, a ninth-grade student and the daughter of Daw Win May Oo said, "I used to go to Tin Ma (upper) branch school. I have not been enrolled yet. You can only go to school if you have money. We are IDPs and have no money. I just want to go to school."
Daw Saw Tin Thein, who has taken shelter in the Tien Nyo IDP camp explained that she could not enrol her children in school due to lack of money. Her house and belongings were destroyed by fire in Lekka village in Mrauk-Oo Township.
"I have not even considered enrolling in a school. When the village was set ablaze, the paddy seeds were in the house and were completely destroyed so we have been unable to start farming. We have not been able to send our children to school yet. The cost of schooling is high and group tuition is expensive. We cannot enrol them. The government has not done anything yet. Even if they go somewhere to be taught I can't let them go far because they are daughters," she said.
There are 3,217 people in the Tin Nyo refugee camp made up of 845 households. Amongst them are 50 high school students have not yet been able to enrol, she added.
Rakhine state education director U Tin Thein explained they were planning to provide students staying in the camps with access to schools nearby.
"Township education officers have been asked to take numbers of the children in refugee camps. These children are listed in class and are given printed books, "We have already ordered exercise books. At the moment these children can go to nearby schools," U Tin Thein said.
Daw Nu Nu Thar, Rathedaung Township Education Officer, said, "Two high schools in Kyauktan and Ye Soe Chaung were closed last year in Rathedaung Township. This year, we plan to reopen schools in the camps. Shwe Parami monastery in Rathedaung town will be open for students to study who have fled from Kyauktan. There are about 50 high school students there. The ANP office is planning to open classes for students on the other side of the pagoda. We are making arrangements for everyone to study, "she said.
There are 440 high schools in Rakhine State and a total of five high schools will not be able to open in the current 2020 school year. They are Tin Ma and Mee Wa villages in Kyauktaw; Bagone and Aung Thapyay in Maungdaw township, and Don Paik in Rathedaung. The rest will be reopened, according to State Education Officer U Tin Thein.
Schools in Myanmar usually open on the first day of June every year however due to the COVID-19 pandemic schools are unable to open on time. Myanmar authorities announced the opening of the high school only on 21 July.