NLD election-banners destroyed in Rakhine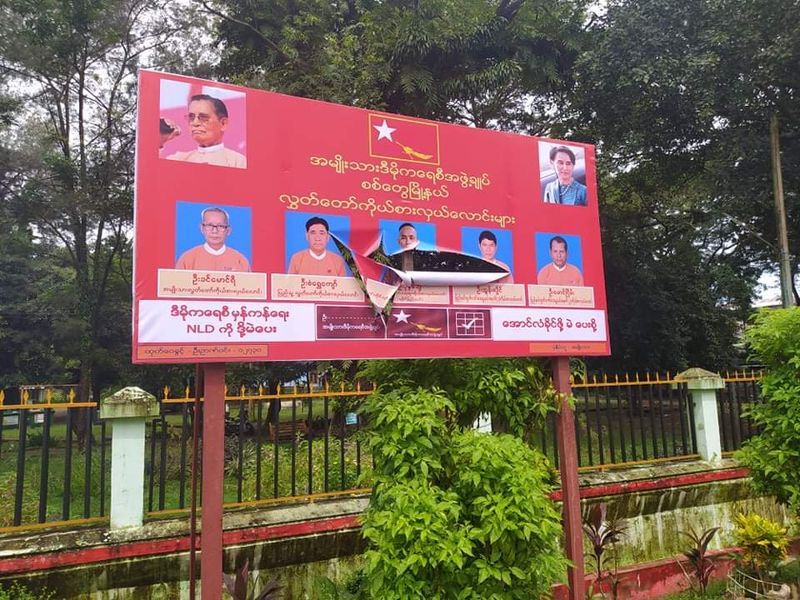 Saung Zarchi
Narinjara News, 28 September 2020

At least two election-banners, erected in support of National League for Democracy (NLD) candidates, were destroyed in downtown Sittwe, the capital city of Rakhine State within three days.

U Thaung Sein, chairman of NLD's Sittwe district committee, informed that a huge banner put in front of U Ottama Park in Sittwe was torn by miscreants last night and another poster near the Lanmadaw ward's
revenue department office was destroyed on 25 September night.

Earlier seven polls related signboards were destroyed in Taungup, two in Man Aung township and one in Thandwe Ngapali town.

NLD's Sittwe township committee chairman San Shwe Kyaw informed that the banner-signboards were torn down by sharp weapons.

"We do not known who destroyed these. The matter has been brought to the notice of Rakhine State chief minister and the NLD's central committee (led by Daw Aung San Suu Kyi). We are feeling sad as it was very much unexpected," he added.

There was no such incident of destroying a political party's election-signboards happened in Rakhine State earlier. It seemingly indicates the losing popularity of NLD in southern parts of the State after the northern localities, said an analyst.

Speaking to Narinjara News, U Thaung Sein disclosed that there are a number of election-signboards erected in Sittwe by various other political parties, but only NLD banners were targeted.

"We do not want to make any comment over it. However, we believe that these incidents have damaged the reputation of Sittwe," added the NLD leader.

Khaing Kaung San, an official with Rakhine State Election Observatory, stated that such incidents should not be allowed as Myanmar is marching on its way to a successful democracy. He however hinted that
the destruction of NLD posters might be a sign of angers by some people in the restriction of freedom of expression in Rakhine State.