Thandwe's ANP rally creates poll-campaign history in Arakan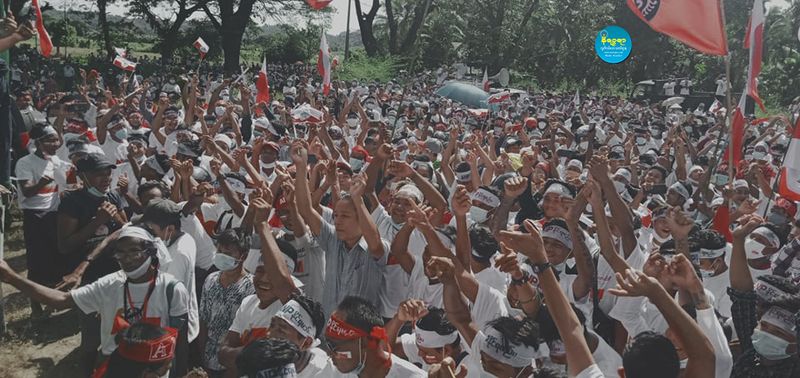 Khaing Lu Hla (Roma Mray)
Narinjara News, 27 October 2020

The spectacular election campaign rally by Arakan National Party (ANP) in Thandwe on 25 October, where tens of thousands of supporters joined in it, created a new poll-campaign history, claimed U Myint Zaw, a Pyithu Hluttaw candidate from Arakan National Party (ANP).

"It is for the first time since Burma's independence where thousands of locals demonstrated their supports to a Rakhine political party at a poll-rally organized in a southern Rakhine locality," he stated.

The Parliamentarian added that nearly 20,000 people joined the rally overcoming the threats of Covid-19 and also related health protocols. It was a great show where it was realized the love and affection of local electorate to the ANP leadership, he pointed out.

Since the country's independence in 1948, the political parties from the mainland Myanmar used to win all national polls in Thandwe, Taungup and Gwa Township located in southern Rakhine and local political parties were only losing.

In the 2010 general elections, the Union Solidarity and Development Party (USDP) led by former President U Thein Sein won the electoral battles in three townships, whereas in 2015 polls the National League for Democracy (NLD) led by Daw Aung San Suu Kyi won all three houses (upper, lower and regional) in the national Parliament.

However, the ANP won in all Rakhine townships except Thandwe, Taungup and Gwa Township as well as two seats in Man Aung Township in 2015 general elections.

U Myint Zaw believes that the locals in Rakhine were motivated by the patriotism. Moreover they maintain a strong sense of opposition towards the human rights abuses in the ongoing conflicts across Rakhine state, he added.

With the increase of acceptability from the Rakhine nationals, the ANP might pose a serious electoral challenge to NLD candidates in Thandwe, where they won earlier easily.

U Win Naing, the chairman of NLD's Thandwe district, acknowledged the growing supports for the ANP, but even though he expects to win as his party still enjoys the affiliation of over 20,000 electorate (out of around 40,000 eligible voters) in Thandwe township.