Public supports swell to ANP campaign-ship, nonetheless authority prohibited its harbouring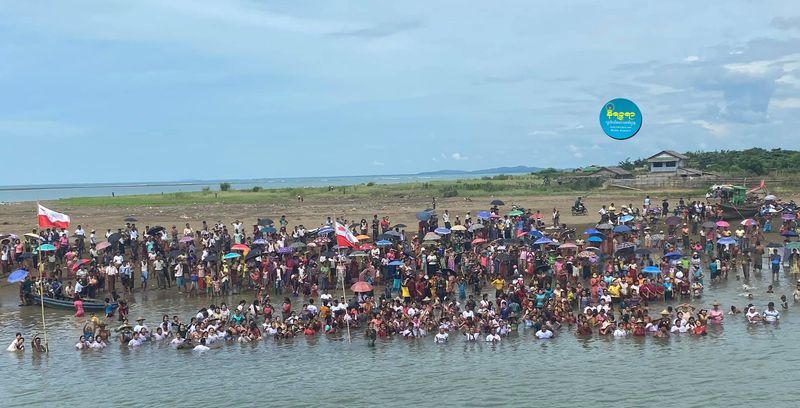 Khaing Lu Hla(Roma Mray)
Narinjara News, 31 October 2020
Despite the authority's refusal to allow an ANP (Arakan/Rakhine National Party) election campaign-ship to harbour in various townships of southern Rakhine for the Covid-19 protocol, where the elections are due on 8 November, public supports have grown visibly.
The ANP chairman U Thar Tun Hla, who was leading the campaign from the ship, expressed happiness over the increase of public interest and supports for his party.

The development may even surprise the National League for Democracy (NLD) sympathizers in those localities.
"It is so gratifying that the people were ready to welcome us to their villages. So our election campaigns remain very successful," he claimed while talking to Narinjara News.
The ANP campaign-ship arrived in Gwa on 26 October, but the officials did not allow it to land, citing the reason for the Covid-19 pandemic.

However thousands of people waved and greeted the ship from the jetty with party flags and banners on their hands.

Similarly on 27 October, thousands at beach of Kan Thar Yar under Gwa Township greeted the campaign-ship.

The trend followed on 28 October at Thandwe Sin Kaung village, 29 October at Taungup & Ma Kyi islands under Rambree township and 30 October at Man Aung locality too.
Rakhine famous singers namely U Maung Thein and U Maung Kyaw Thar greeted their fans along with other supporters from the ship. They played patriotic Rakhine songs and also party victory-song entertaining the gatherings on various ports.
Mentionable is that Taungup, Thandwe, Gwa and Man Aung townships, where the ANP leaders are campaigning with the ship, are understandably strongholds of NLD where the Suu Kyi led party emerged victorious in 2015 general elections.

U Than Naing, a member of State Hluttaw, from Rathedaung township, who was also on board, asserted that no matter how difficult it is to campaign, their party would emerge victorious. Even though it was a campaign trip, the visit helped in molding unity & trust among the Rakhine people, he added.
The Union Election Commission (UEC) stated on 16 October that the polling in nine townships namely Maungdaw, Buthidaung, Rathedaung, Ponna Kyun, Kyauk Taw, Mrauk-U, Pauktaw, Minbya and Meabon in Rakhine State were cancelled because of the ongoing conflicts between the Tatmadaw and Arakan Army (AA).
Only four townships namely Rambree, Man Aung, Thandwe and Gwa are readied for the polls fully.

Moreover, polls in several wards and village-tracts in four townships were also cancelled. The UEC statement indicated those areas as two wards & 52 village-tracts under Kyaukphyu township, three wards & 29 village- tracts under Ann township, four village tracts under Sittwe township and ten wards & 52 village-tracts under Taungup township.