28 Suspects Detainees Allegation over Connection with Arakan Army Appear in Sittwe Township Court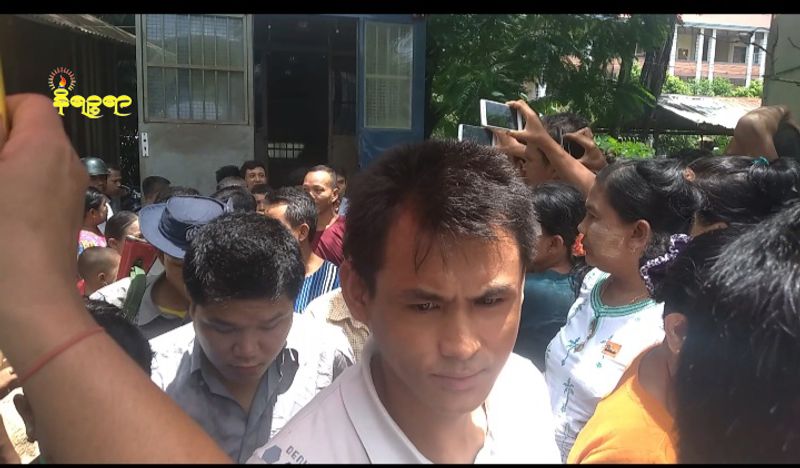 By Khaing Linm, 2 August 2019:
Twenty eight suspected civilians from Mrauk Oo and Kyauk Taw townships being detained reportedly appeared in court of Sittwe yesterday afternoon for allegation over linked with Arakan Army.
Among the under arrested twenty eight suspects who appeared in court , 23 people were from Lark Kar village of Mrauk Oo, four people from Mont Thar Taung village and one villagers from Shwe Pray Village collectively.
"We heard that all the cases for Lark Kar villagers were judged and ordered to transfer to Sittwe District court. It means that they are believed to be taken to prison cell. They are no longer locked up in police station" U Aung Site Min, Advocate said.
U Nyunt Maung, one of the suspects from Lark Kar village said assuredly that it is too crucial to uncover the truth of these cases with the full efforts of law experts and ruling governments' leaders.
" My husband was arrested without any doing wrong. This is unfair to arrest him while he was asleep at home. I need justice for him. He is one of the publics of this country. He is no connection with AA", the wife of U Khine Maung Soe who is one of the arrested suspects from Lark Kar village.
Moreover, she added that intensifying clashes often broke out around Lark Kar village bring her unemployment and appearing her husband in court in Sittwe is too much coasting despite coming from unsafe and terrible zones. There is no villagers around anymore due to continue fighting.
Besides, she doesn't think that she would be able to come to Sittwe again on upcoming hearing sections.
Meanwhile one teenage suspect from Lark Kar village was taken in Mrauk Oo township court due to under age reason and while the other 23 suspects were on Sittwe Township Court yesterday as three villagers died during military custody in May.
The numbers of suspects allegedly arrested over linked with Arakan Army have reportedly reached over a hundred in Rakhine State after 2018 while some incidents of detainees have killed during the military custody.