2 monks and 3 civilians appear in Sittwe court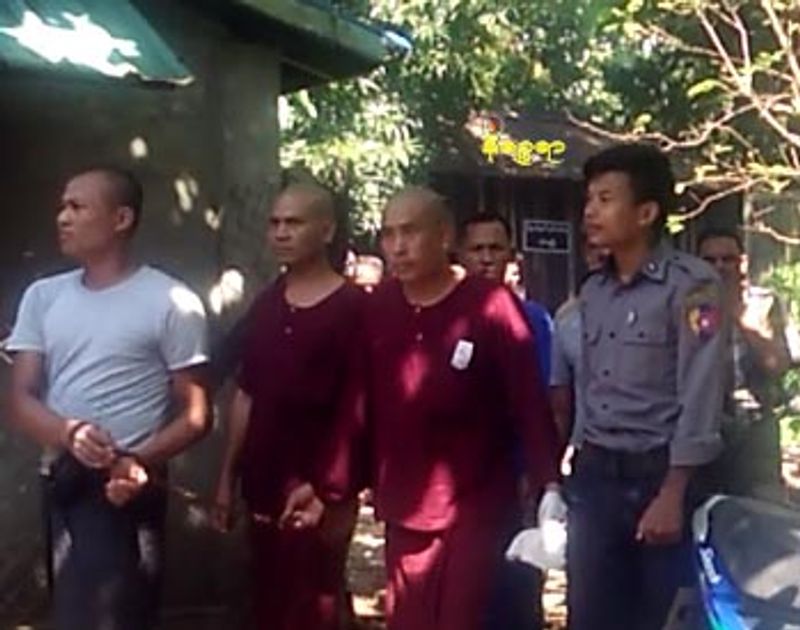 by Chit Ei Hlaing, 18 September 2019

Two monks and three civilians, who were arrested by Myanmar Army personnel for suspected links with Arakan Army (AA), appeared yesterday in the Sittwe district court of Arakan.

They were arrested by a group of soldiers on 1 April at a nearby location to Kan Sauk bridge and being charged under the anti-terrorism act 52(kha).

U Thuwana (20 Buddhist lent years of monk-hood), abbot of upper hill Tirimizu monastery under Ponna Kyaunt township and U Nyana (23 Buddhist lent), abbot of Gandamar Taung monastery under Mrauk U township were arrested along with three others on their way to Mrauk U.

They all were traveling from the Arakanese capital city of Sittwe by car. They were later identified as Maung Kyaw San (26) from Kway Htoo village under Ponna Kyaunt township, Maung Mra Tun (22) from Pauk Taw and Maung U Thein Han (24) from Maun Ni Byint village under Rathidaung township.

U Thuwana's mother informed that her son became a monk since he was 12 years old. He is also studious and already awarded with nine degrees of religious education. His mother also claimed that U Thuwana maintained high morals during his prison days. His family got disappointed over his arrest.

Another relative revealed that their first appearance date was 16 April and before they were produced in the court, they were subjected to tortures during interrogations. He claimed that he could see a sign of tortures on their bodies as he met the detainees in the court premises.

Lawyer Daw Win Win Zan informed that 17 September was their hearing date, where the judge interrogated a plaintiff, who is a Nay Pyi Daw based IT expert. Moreover, a few pieces of evidence were also submitted in the court. Next hearing date would be scheduled by this month, added the lawyer.

It needs to be mentioned that around 200 civilians of Arakan have been arrested since December last year and charged with suspected links to AA and the list goes on increasing.