One year on, Kyauk Tan Six released with charges dropped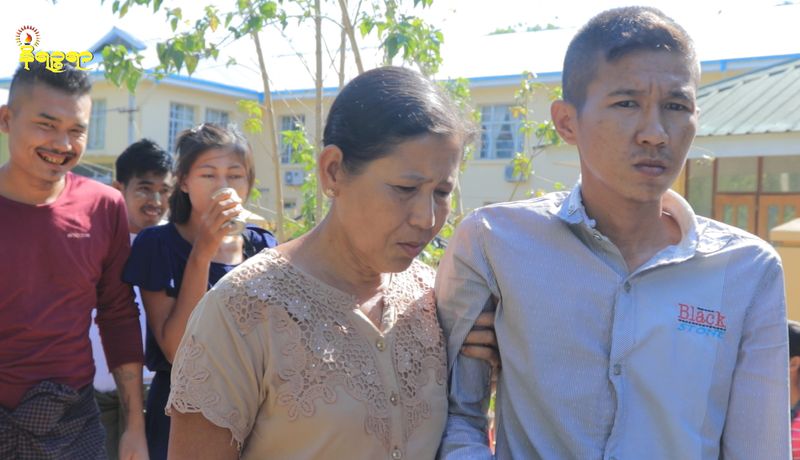 Ni Min Htun

Narinjara News, 17 May 2020
Six men from Kyauk Tan were released Friday afternoon, following a court hearing in Sittwe after spending over a year in detention. They had charges under the Counter-Terrorism Law Sections 52 (a)and 50 (i) which have now been dropped.
The freed men, all from Kyauk Tan village, Rathetaung Township. include Maung Htun Min Naing (20), Maung Nyi Nyi Htwe (22), Maung Maung Naing (28), Maung Oo Myint Htun (27), Maung Soe Kyaw (27) and Maung Nyein Shwe (20).
Sittwe District Attorney U Soe Hlaing who represented the men in court, explained that they are no longer liable to legal action, their charges have been dropped and they have been released.
In the first week of May 2019 the men had been arrested by the Tatmadaw at Kyauk Tan village school. According to one of the released Ko Maung Nyein Shwe the men were interrogated, beaten and faced difficulties in meeting basic needs during their time in detention.
"They arrested and interrogated us. They asked us if we had connections to the AA. They blindfolded me and tied my hands behind my back and beat us. During our time in prison it was difficult to survive," he said.
Daw Ye Ye Soe explained that the family faced all kinds of difficulties and financial problems following the arrest of her son, Maung Nyein Shwe.
"When he was arrested there were so many problems. It was difficult to cover the travel expenses to come to Sittwe to visit him. Just covering the basic needs was difficult. When we came to visit him in prison we couldn't support him the way we would have wanted too. He has been locked up now for a long time and hasn't been able to work, so money is a problem. There's no such as thing as an innocent civilian when it comes to anything that concerns the AA. I don't want anyone else to suffer like they have" she said.
Amongst the group who were arrested in Kyauk Tan, two were under the age of 18. They have been released on bail but continue to face charges.
On May 2, eight people were shot dead and a further seven wounded after Tatmadaw troops opened fire on a group of people in Kyauk Tan School. The incident happened while the Tatmadaw was holding and interrogating over 200 villagers at the school.