Terrorism charges against five men from Kyauk Seik as well as seven fugitives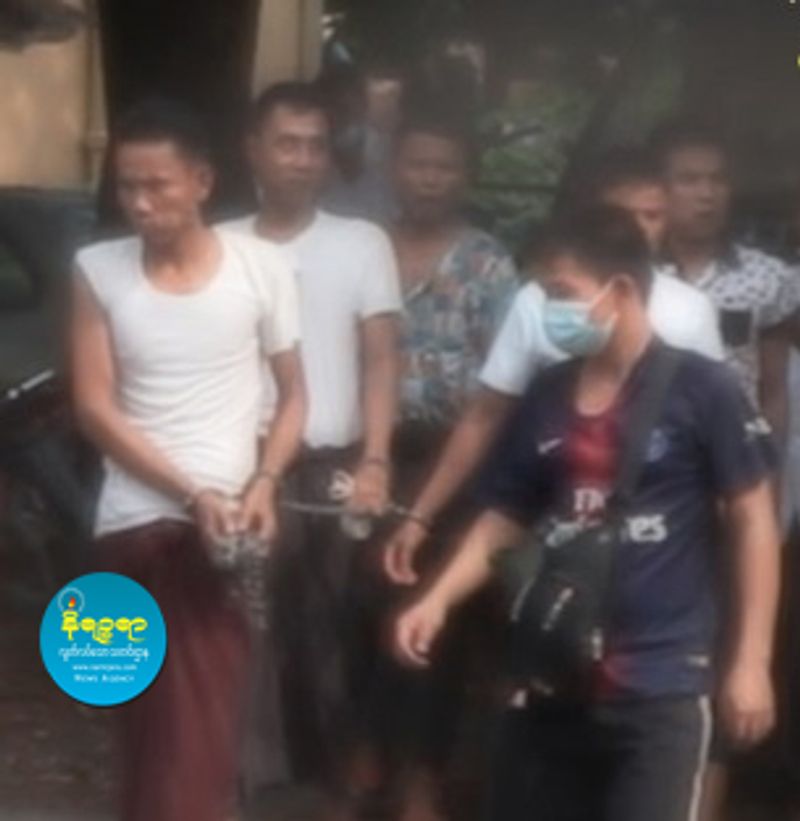 Ein Soe Pru

Narinjara News, 25 May 2020
Sittwe district court has charged five men from Kyauk Seik village, Ponnargyun Township as well as seven men in absentia, on two counts of terror related charges. The five men from Kyauk Seik had previously been held on a navy ship and had been tortured by military personnel.
U Kyaw Nyunt Maung, a lawyer for a legal aid group said "they have been charged under the terrorism law, section 50 (j) and section 52 (a). Seven men who have escaped arrest have also been charged in absentia" he said.
The five arrested men transferred from Ponnargyun police station to Sittwe district court have been accused by a captain from infantry battalion 550 of links to the Arakan Army, and have now been charged under the Counter Terror legislation, he said.
The five men include Ko Nyi Nyi Aung (24), Ko Myo Linn Oo (24), Ko Maung Chay (24) who are from Kyauk Seik. The remaining two include Ko Min Soe (38), from Ponnargyun Town and Ko Kyaw Win Hein (22) from Zi Pin Gyi village, Mrauk Oo Township.
The seven men who have evaded capture by the authorities include U Maung Thar Htun (35), U Nyo Thar Aung (38), U Maung Ba Chay (41), U Maung Maung Chay (38), U San Htay Chay (31), U Maung Kyi (39) who are from Kyauk Seik, and U Maung San Win (31) from Zay Di Yin village. The five who have been arrested were taken to Sittwe district court for the hearing after which they were taken to Sittwe Prison under police escort.
Daw Khin Nyunt Ree, the mother of the arrested Ko Myo Linn Oo spoke to Narinjara about her son. "His father isn't well, he has had a stroke and my son had come to check up on him in Kyauk Seik. They came to the house and arrested him while he was eating. The boy is innocent, I am devasted. My stomach is in knots with grief. He must be immediately released, he is innocent. He is all I have to support us," she said.
On April 19, 38 people, including these five, were arrested by the Tatmadaw on suspicion of affiliation with the AA a day after 8 villagers killed in artillery shells explosion inside the village of Kyauk Seik . So far 33 have been released.
The case of the five men has attracted public attention after a video appeared on social media networks on May 10 showing Tatmadaw soldiers beating five men who were handcuffed and blindfolded aboard a boat.
The Tatmadaw later announced that legal action would be taken against security personnel involved in the unlawful interrogation of the men.