Wife demands legal action against her husband's killers in Kyauktaw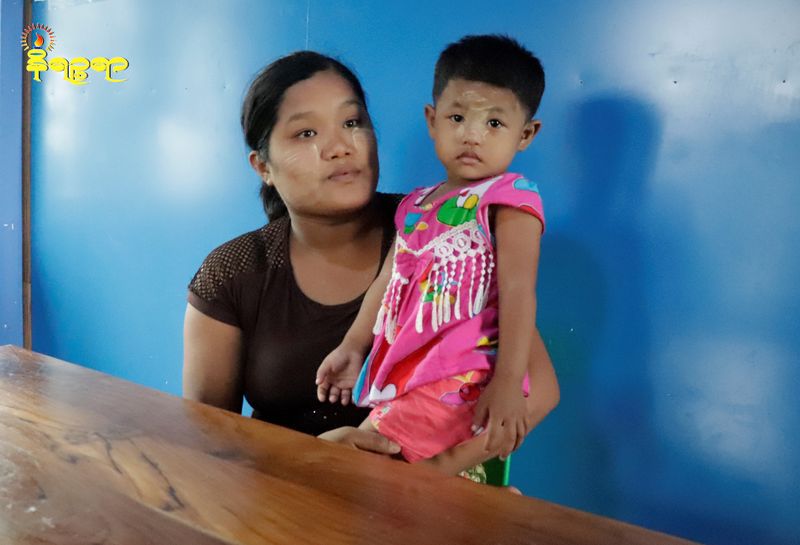 Tun Kaing (Taung Yin Kyun)

Narinjara News, 17 July 2020
Daw Suu Chay, the wife of murdered U Kyaw Hlaing, from Paik Thay quarter in Kyauktaw, has called for her husbands killers to be brought to justice.
She made the announcement at a press conference held in Sittwe. The body of 31 years-old U Kyaw Hlaing had been cut into pieces, placed in bags and dumped in the Kaladan river.
Daw Suu Chay made the announcement concerning her husband's murder at a press conference held at the Sittwe office of the Arakan Human Rights Defenders and Promoters group on the morning of July 15.
"On the morning of July 6, a friend of mine went to the river to fish. As he was casting his net, he saw a leg sticking up in the water nearby and came and told me. When we went to look, I could see it was my husband's leg, I knew it was, because he was wearing the trousers my brother had given him. There was also a leather strap on the leg, that strap is my own," Daw Suu Chay said.
Daw Suu Chay told reporters at the news conference that the body had been identified by the clothes he was wearing and the tattoos on her body.
"The next day, on July 7, we heard that a package had been found on the riverbank, so we went and opened it. When I opened it, there was a head and two fingers inside. The two fingers had been cut off from the forearm. The head had been severed. You could see his daughters name tattooed on his hand. You could see it, so it 's definitely my husband. We kept on searching nearby and found another leg. Then he saw the body. The body had been placed in a rice sack and stitched up. A rock had been placed on top pressing it down. That body is my husband's. You can see the word 'Arakan' on his back. This is all evidence. For my husband, I want the killers of my husband to be punished according to the law, "she added.
Daw Suu Chay told the press conference that U Kyaw Hlaing was a poor man but a hard worker. He was arrested by Tatmadaw soldiers on July 2 at around 4 pm while collecting beer cans and was taken to the Kyauktaw community religious hall. He was spotted the next day hanging from a banana tree by the back road of the building on July 3. An army captain went to demand the release of her husband but he said no arrests had been made.
Kyauktaw police station chief confirmed to Narinjara that parts of Kyaw Hlaing's body parts had been found on the banks of the Kaladan river, and that he was from Paik They quarter.
Narinjara was unsuccessful in attempts to contact Kyauktaw Township Administrator, Rakhine State government's Minister for Security and Border Affairs, Colonel Min Than, and Gen. Tun Tun Nyi, vice-chairman of the Tatmadaw Truth News Information unit.
Brigadier General Zaw Min Tun, secretary of the Tatmadaw's True News told RFA in an interview that the military regularly make public announcements whenever someone is arrested or released by the Tatmadaw. Concerning this case, this is only an accusation and the Tatmadaw would never commit such an atrocity.