Body of U Tun Maung Sein recovered from cesspit 18 days after his murder in Kyein Karli, Rathedaung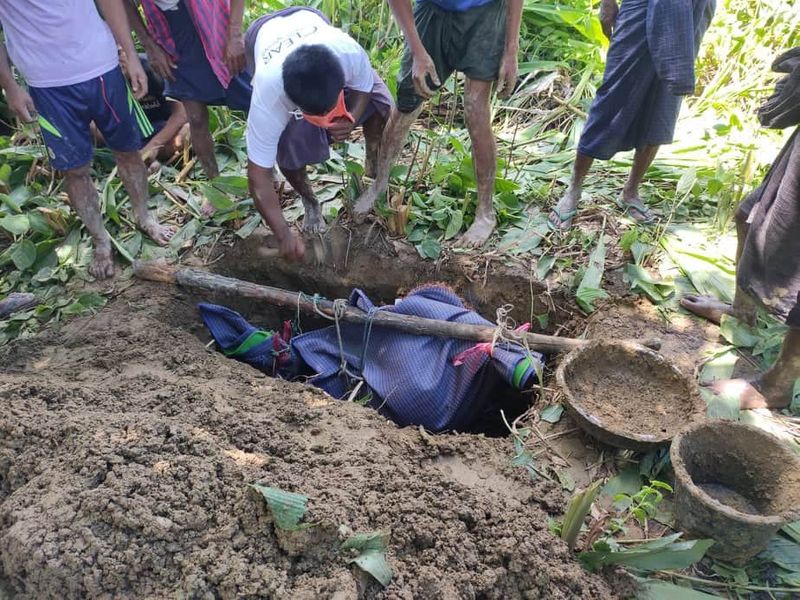 Ein Soe Hpyu
Narinjara News, 1 August 2020
The body of U Tun Maung Sein, a 61-year-old shopkeeper in Kyein Karli village, Rathedaung has been found 18 days after his murder. His remains were recovered from a toilet cesspit behind a house this morning.
According to Maung Bu Ye, the son-in-law of U Tun Maung Sein, some villagers had returned to the village recently and recovered the body at around 8 am on 31 July after noticing a bad smell.
"He is my wife's father. The soldiers shot and killed him. They dragged him out from where he was hiding in the shop and killed him in front of my mother-in-law. When everyone fled the village, his body was left behind. We came back to try and retrieve the body but we couldn't find it. There was a bad smell and that was how his body was found, put in the toilet cess pit and covered with a tarpaulin at the back of a house. We are cleaning the body for burial. The relevant authorities have also been informed. Burial can only be done with their permission. The body is no longer suitable for viewing. I am just devastated," Maung Bu Ye, the son-in-law said.
Fighting had erupted near the village of Kyein Karli on July 13. so the victim, U Tun Maung Sein, had hid in his shop. Three soldiers had subsequently found him, dragged him out and shot him, Maung Bu Ye added.
Daw Khin Saw Wai, a Pyithu Hluttaw representative for Rathedaung Township, confirmed that the body had been found.

"The family contacted us and informed us that the body had been found in the toilet cesspit of their house. They said they were working to retrieve the body. If a crime has been committed, it should be dealt with within the legal framework. This should not have happened," she said.
U Khin Maung Latt, a representative of the Rathedaung Township National Assembly, also said he had been notified.
"I got in touch with U Tun Maung Sein's daughter and son-in-law. The burial will be difficult. The corpse is decomposing. They told me the police have been informed," he said.
When asked about the matter, Rathedaung Township Administrator Aung Myint Thein said that his personal secretary had found the body. He did not have details concerning who was involved in the killing but he confirmed that the family had contacted the police.
Brigadier General Zaw Min Tun of the Tatmadaw's true News information unit did not answer the phone.
Major Gen. Tun Tun Nyi, the vice-chairman of the Tatmadaw's True News told DVB that there was no reason for the Tatmadaw to enter the village and start shooting and no civilian casualties were reported in Kyein Karli village.
More than 250 civilians have been killed in armed conflict between the Myanmar Tatmadaw and the AA in Rakhine State, according to Rakhine conflict monitoring groups.