Body of man who died in Tatmadaw Battalion 377 detention transferred to Mrauk-Oo police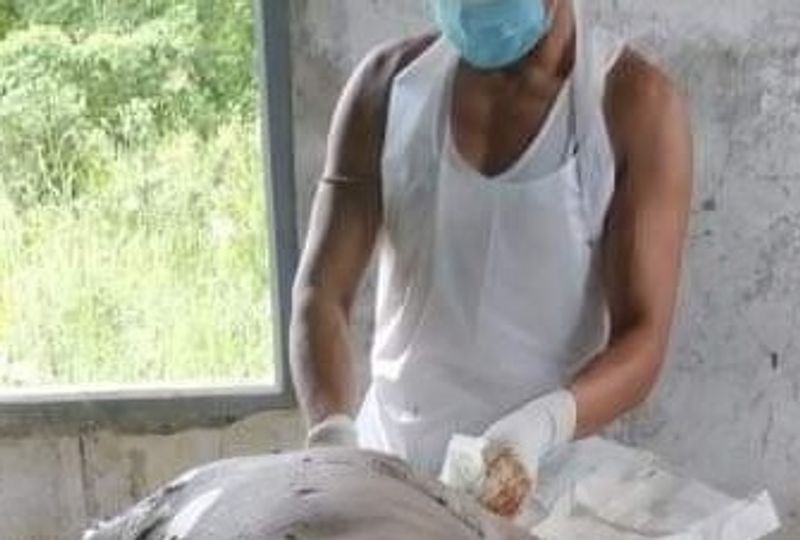 Tun Khaing (Taung Yin Kyun)

Narinjara News, 12 August 2020
The body of a man who reportedly died while being detained by Mrauk-Oo based Battalion 377 was handed over to police at Mrauk-Oo Police Station on Monday night.
The body has been identified as U San Shwe Hlaing, 41, husband to Daw Hla Hla. He was from Thin Pan Kaing Village, Mrauk-Oo Township.
Aung Kyaw Hla, San Shwe Hlaing's brother who lives in Kyauk Yit Kay, said, "My brother's whole head is completely smashed up. People carrying the body said he had a gunshot wound to the head. There were two stab wounds to the body. They said his entire jaw was coming off. We are poor, so we didn't dare to ask the doctor to check him. We had to bury him at around noon yesterday , there was a bad smell coming from him at around 9 yesterday morning and we did not want to wait any longer," he said.
U San Shwe Hlaing, a labourer in Kwa Sone village in Mrauk-Oo Township, had gone to attend his brother's funeral in Mrauk-Oo town on August 7 but had disappeared on his return home, he said.
"His elder brother who had been in prison had died and was buried in Mrauk-Oo around 5 pm on Friday, the 7th of this month. After the burial, I think he went back to his village with a friend. A shopkeeper from the outskirts of the village came to me and told me that the body was taken by ambulance from Battalion 377 just after 4 pm yesterday. Police told him to report it to me. When I went, I saw that it was my brother San Shwe Hlaing," said Aung Kyaw Hla.
U San Shwe Hlaing was a native of Pazun Phe village. He was married to Daw Hla Hla in Thin Pan Kaing village and has two daughters. The eldest daughter, Ma Than Htay, is 14 years old and is in 10th grade in Mrauk-Oo. His youngest daughter, Ma Win Chay, is 7 years old.
His wife, Daw Hla Hla, said: "We went to the cemetery yesterday morning. I couldn't recognise his face. His whole head was falling apart. The elders said they had found a gunshot wound to the head. There are two stab wounds on his back. He works for good honest people. With the money I got from him and the money I could get from tailoring we were putting our eldest daughter through education. I am a seamstress. I do not know what to do now."
The Tatmadaw True News information unit secretary Brigadier General Zaw Min Tun did not answer the phone to comment on the arrest and death of San Shwe Hlaing at Battalion 377.
However, a statement issued by the Tatmadaw True News on August 10 stated, "On August 7, at around 6:15 pm, an unidentified person pushed open the gate No. 2 of the Battalion. Security personnel called out to question him, he didn't respond. Two warning shots were fired after which he ran and was then arrested. The detainee was identified as San Shwe Hlaing, 41; Pazun Pe Village, a resident of Mrauk-Oo Township. He was drunk at the time of his arrest so he was interrogated the next day on the morning of August 8. According to the initial interrogation, he was a Private in the AA with an ID number AA-6732. He will be handed over to the Mrauk-Oo Township Police Station for further investigation and legal action will be taken in accordance with the law," the statement said.
A statement issued again by the Tatmadaw's Truth News on August 11 and stated that San Shwe Hlaing had been shot and killed while he was trying to fleeing.
The statement from the Tatmadaw said that his brother Aung Kyaw Hla and his wife, Daw Hla Hla, denied that San Shwe Hlaing was an AA soldier with the ID number AA-6732 and that he was just an ordinary civilian carrying out daily work for others.
His brother, Aung Kyaw Hla, said: "We need the leaders of the military to prevent such torture and death from happening again. There needs to be control over the lower ranks. We do not understand the law and we cannot do anything about it."
Regarding matter, Mrauk-Oo Township; State Hluttaw representative U Tun Thar Sein said, "the Rakhine State Hluttaw has submitted numerous proposals and questions on issues like this. If he is AA, then he is a criminal. He should be imprisoned under the Penal Code. If one deserves to be punished, one must be punished. But I would like to say that such torture and killing should not be done because it is completely illegal. Illegal arrests and killings are a violation of civil rights and the rule of law. I want to say that it is a violation of human rights. "