Rakhine Women's Network calls for strong legal action against soldiers who confessed to gang raping a woman in Rathedaung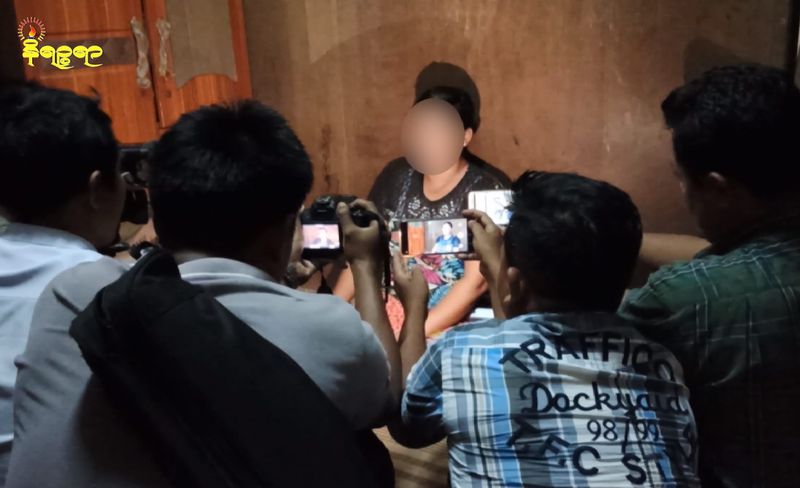 Tun Khaing (Taung Yin Kyunt)
Narinjara News 13 September 2020
The Rakhine Women's Network has called for tough legal action to be taken against three soldiers who confessed to raping a woman in U Ga village, Rathedaung township, Rakhine.
Daw Nyo Aye, chairwoman of the Rakhine Women's Network, said: "We want them to be brought to justice as soon as possible. The woman they did this to is a civilian and therefore they should be brought to justice in a civilian court. We want the law to be enforced and strong action to be taken to prevent such crimes in the future," she said.
The Rakhine Women's Network (RWN) is an organization that helps protect vulnerable Rakhine women and has led efforts to help the rape victim of U Ga village and opened the case at Sittwe No. 1 Police Station.
On June 30, 2020, at around 6 pm, three soldiers entered U Ga village in Rathedaung Township and threatened and raped a 40-year-old mother of four while she was hiding with her family at their home.
"We took the woman to Sittwe on July 10 and she filed a case at the Sittwe City Police Station. The case was opened because the relevant police officers accepted the case. Military officials also investigated the case," said Daw Nyo Aye.
Gen. Zaw Min Tun, chairman of the Tatmadaw's True News information unit, confirmed to RFA that a woman from U Ga village in Rathedaung Township had been raped by Tatmadaw soldiers.
"When asked concerning the headquarters report, the DNA of some of the soldiers who were in U Ga village on the day of the incident matched that found on the body of the victim," Gen. Zaw Min Tun was quoted as saying by RFA.
Daw Khin Saw Wai, a State Hluttaw representative from Rathedaung Township, said she was reassured that the truth had emerged.
Daw Khin Saw Wai said, "those who commit crimes should be severely punished according to the law. Only severe legal action will deter them from doing this to women again. We need to take strong action against such cases so that they do not violate women," she said.
The Tatmadaw's Truth News information unit initially denied the allegations.
According to the RFA news report, a re-examination of suspects resulted in confessions after one soldier admitted to the crime. General Zaw Min Tun said that further evidence would be collected and legal action would be taken according to military law, as the suspects were found to have confessed.