One killed, two injured in Rathedaung artillery shelling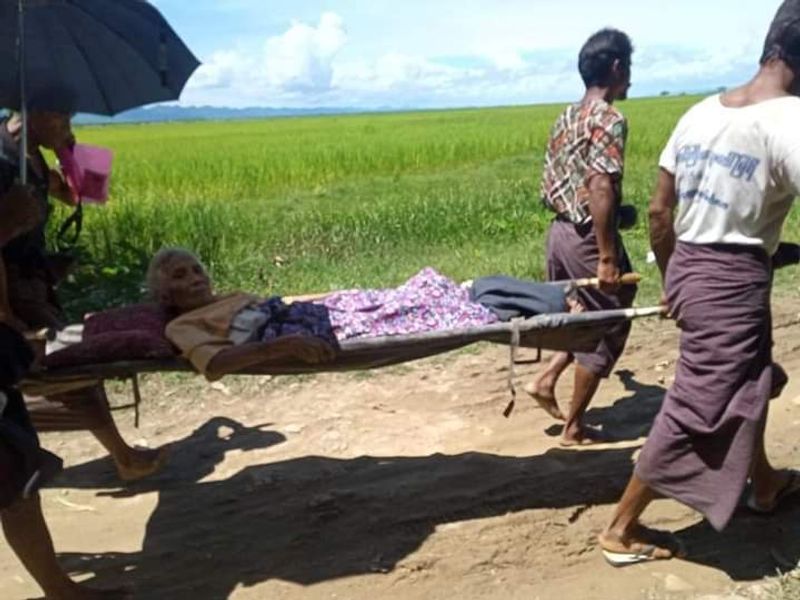 Tun Khaing (Taung Rin Kyunt)
Narinjara News, 18 September 2020

One civilian was killed and two others were injured as artillery shells exploded at Shwelaungdin village under Rathedaung township, 20 miles north of Rakhine State capital city of Sittwe, in the morning hours of 17 September.

The deceased has been identified as U Maung Maung Chay (48), who owned a rice mill, informed the Shwelaungdin village administrator adding that Daw Hla Saw Nu (85) and U Hla Tun Maung ( 60 plus) sustained injuries in the incident.

He however denied that there was any incident of fighting. Some shells were falling from the Pada Leik located at the outskirt of Sittwe. Security forces based in Rathedaung also fired back, revealed the village administrator. Later most of the villagers fled their residences out of fear.

The first artillery shell hit the village road and killed U Maung Maung Chay. Another villager was injured. The second shell hit an elderly woman.

U Khin Maung Latt, a member of National Assembly from Rathedaung locality confirmed that one person was killed and two others sustained injuries in the incident.

" U Maung Maung Chay died on the spot at around 9:45 am. It remains a difficult job to call there because of heavy artillery fires," he added while talking to Narinjara News.

Local villagers claimed that the shooting was carried out by the personnel belonged to army and navy, but the military was not available to authenticate the information.

Two other villagers were also injured when the navy artillery shells hit Lamutapin village under Kyauktaw township on 16 September evening. The victims were identified as U Thein Hla (52) and Daw Mae Ma (50), stated village administrator Aye Maung.

Earlier on 15 September, a 38-year-old Muslim man from Arakataung village under Rathedaung township was injured in firings. The locals alleged that the navy personnel were firing in that locality. He is now in Buthidaung township hospital for necessary treatments.
However, Tatmadaw True News in a statement claimed that the shooting was carried out by Arakan Army members.

It is not possible to confirm whether there was fired by the AA, as the current government has deemed communication with the Arakan Army (AA) illegal.

"The photo: The injured woman, Daw Hla Saw Nu (85), was taken to hospital."