Rakhine human rights activists support CRPH call for effective international action against the Military Council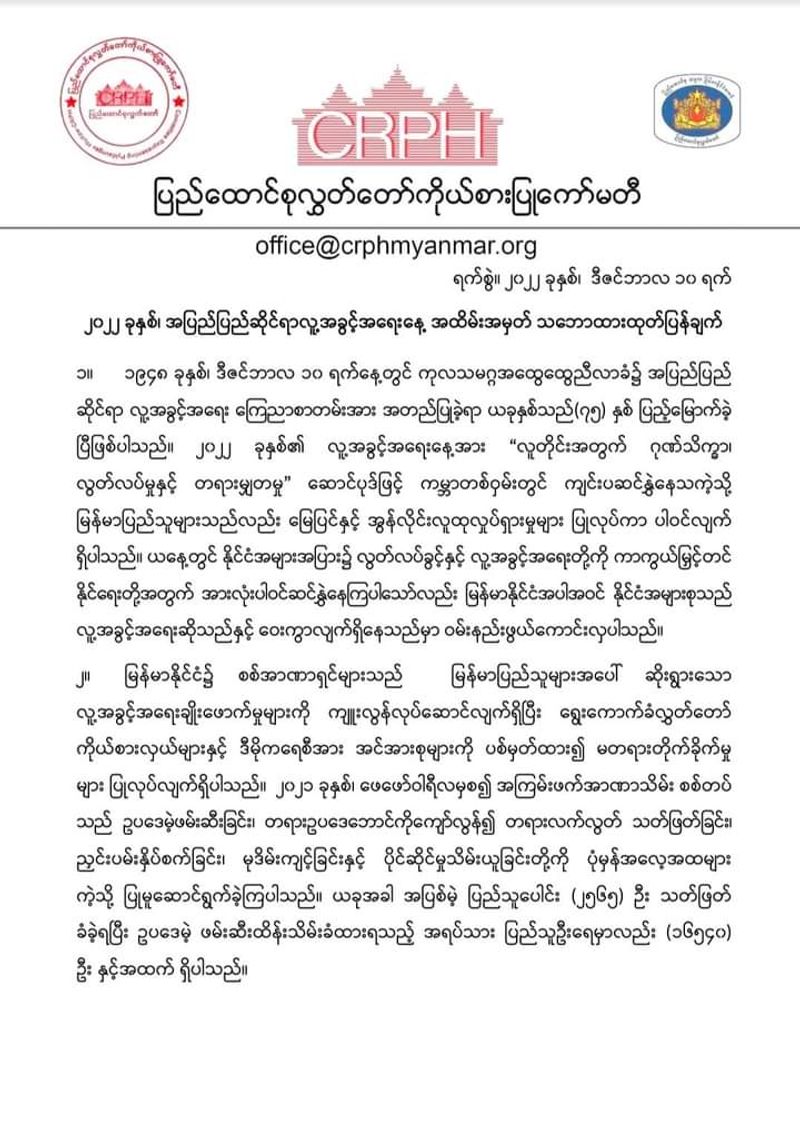 Narinjara News, December 12, 2022
The Rakhine human rights activists have welcomed the statement issued by the Committee Representing Pyidaungsu Hluttaw (CRPH), requesting the international community including the United Nations (UN) and Association of Southeast Asian Nations (ASEAN), to take strong action against the junta that has killed 2,565 innocent people and arrested more than 16,540 civilians.
A Rakhine human rights activist who did not want to be named told Narinjara, "We welcome the statement from CRPH. In Rakhine, at least 30 civilians were killed, and hundreds were arrested at the hands of the Military Council troops during the 4 months of recent fighting. Many houses were burnt down. Innocent civilians have been held captive, and some are still missing. We are investigating and documenting these issues."
"During the renewed fighting raging in Rakhine state, the Military Council's Army, Navy and Air Forces have targeted civilian villages, using heavy and destructive weapons. As a result of these terrorist attacks, many people have died and homes destroyed. Efforts to document the detailed lists of the casualties and destruction are on-going with help from international organizations, which we will present o the UN," he said.
Regarding the human rights violations committed by the Military Council, CRPH issued a statement on International Human Rights Day which fell on December 10 th , and called on the international community to save the lives of the people of Myanmar.
The CRPH's statement emphasized that the regime has killed 2565 innocent people, and more than 16540 civilians have been arrested. Further It has carried out illegal arrests, torture, rapes and seizure of property on a systematic basis.
CRPH also refers to the recent death sentence imposed on 7 students of Dagon University amid strong objections from international and ASEAN member countries, and the executions of four activists including a member of Parliament while a total of 140 people have been sentenced to capital punishment
The statement also condemns that fact that "Thousands of people lost their lives and several hundred thousand were forced to flee their homes due to the Military Council's merciless airstrikes in ethnic areas, and entire villages including schools and houses have been burnt down."