One man dead following Tatmadaw arrest in Ramree Township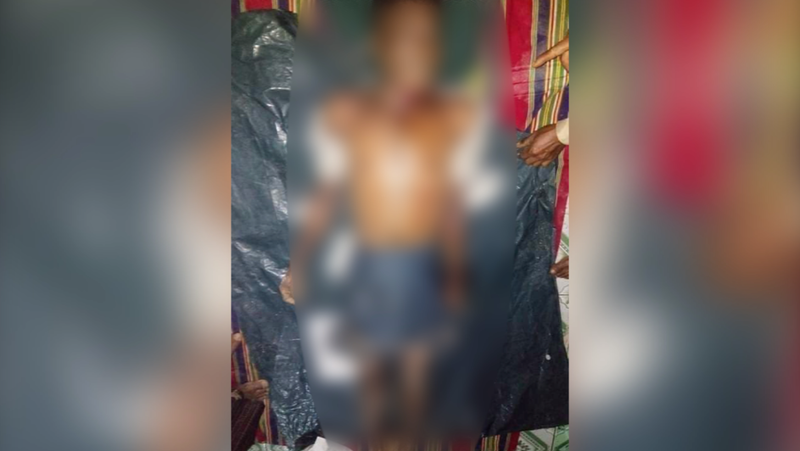 Ein Soe Hpyu

Narinjara News, 15 July 2020
U Soe Myint Tun, aged 37 and from Ramree's Ah Lay Chaung village was found dead following his arrest by the Tatmadaw, according to family members who saw his body yesterday in Ma Ee hospital.
U Soe Myint Tun was arrested along with five other people on July 11, family members told Narinjara.
Ah Lay Kyun village administrator U Myint Lwin said "the police called me yesterday around 1pm. They said Soe Myint Tun had killed himself by hanging. When we went there they said the dead body was at the hospital. They said he died on July 13 in the evening. They had told Soe Myint Tun that they wanted to question him and had taken him away while he was farming. His family is in a bad way. His body was taken yesterday back to the village," he said.
On July 11, at around 3 am, U Maung Myint Tun (37); Maung Myint Win (23 years old) U Maung Tun Win (47), Maung Zaw Lin (35) and Maung Nyein Chan (19) all from Ah Lay Chaung village, were arrested by Tatmadaw troops. On the same day U Sein Myint Tun, while out in the paddy fields, had been taken away for questioning at around noon. He added that Soe Myint Tun had been found dead by police, apparently having hung himself.
U Soe Myint Tun's brother-in-law, U Kyaw Hlaing, spoke about what he had seen. "When we saw his body they had already carried out the autopsy. We could see the rope marks on his neck. There were injuries to his face and neck. I think he was killed by hanging. We could see marks on his face where he had been struck by rifle butts. They conducted the autopsy without our family's permission. We are extremely angry. They say he killed himself by hanging. The police at the police station said they didn't know".
When the Ma Ee police chief was contacted concerning Soe Myint Tun, he confirmed that he had not died in the police station but put the phone down without providing further details.
Ma Ee town administrator U Kyaw Pu spoke about what he knew. "It is true that he is dead. They reported this to us. I don't know the specifics. I understand that it was death by hanging. It wasn't at Ma Ee police station. Behind Ma Ee police station there was an old telecommunication station, that's where it happened. He died on July 13," he said.
The Tatmadaw True News information unit deputy chairman General Tun Tun and the unit secretary Brigadier General Zaw Min Tun were unavailable to take calls concerning the incident. However one announcement by the Tatmadaw True News today July 15 was titled 'AA extremist arrested; One committed suicide by hanging'
According to the announcement, local security forces went to Ah Lay Chaung village on the afternoon of July 12 and searched the area with the village administration. During the search, six AA extremists were identified and arrested: Zaw Lwin, Myint Tun, Chan Nyein, Zaw Htay, Tun Win and Soe Myint Tun. To carry out the necessary interrogations at Ma Ee police station each prisoner was placed in separate buildings. At around 6:30 pm on July 13, Soe Myint Tun was found dead hangingby a rope from the roof. In accordance with procedures, the dead body was transferred to Ma Ee station hospital for examination. Interrogations will continue to be conducted with the remaining five men, the announcement read.