Arakanese villagers face troubles as firing often breaks out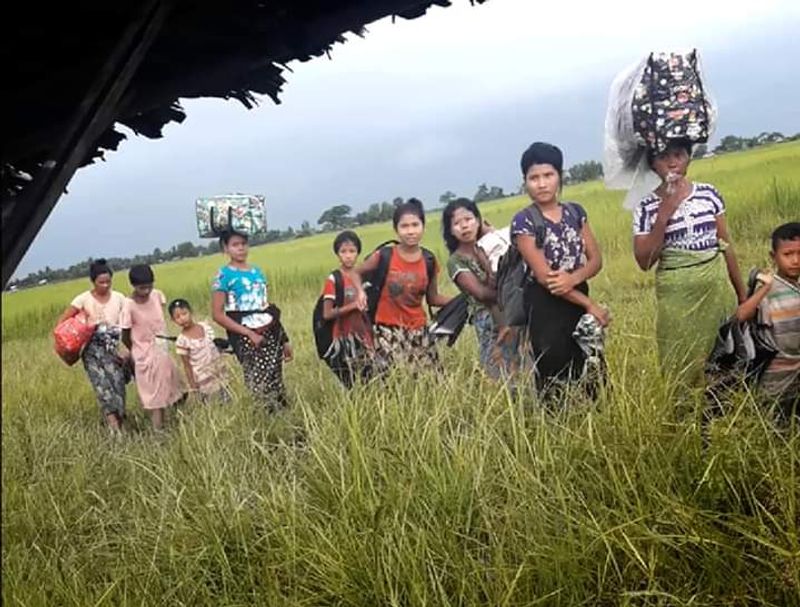 Narinjara News, 12 October 2019
Residents from several villages in northern Rathidaung township of Arakan had fled after heavy firing incidents broke out in their localities. However, many of them have returned back as a army column left their village to move towards a different locality.

Thaungdarar village administrator informed that Arakan Army (AA) members attacked a navy ship on Mayu river with rockets at around 10 am on Thursday. The sailors retaliated with firings targeting few villages at the eastern bank of Mayu.

"Some artillery shells fell down nearby our village. Scared villagers soon fled to the foothill. The firing incident lasted for around 20 minutes. Later the navy ship left the place mobbing towards the mouth of Mayu near Rathidaung, where a 537 army battalion was already
stationed," said the village administrator.

On the same day over 1000 residents from Ramyet (old), Ramyet (new), Naung Pin Hla and Prin Daw villages under Rathidaung township left their places as the soldiers started firing gunshots targeting nearby locations from a navy ship.

A female shopkeeper from Ramyet (new) village informed that an inland ferry navy ship was placed at a local jetty for transporting soldiers.As the soldiers landed, the scared villagers fled from their place. The soldiers shot many gunshots targeting them.

"I had not found time to close my shop, so it remained open as I fled my home. We got scared when we heard several gunshots fired by the Myanmar Army personnel. Not only me, but many other villagers also fled with utter confusions," she added.

U Khin Maung Latt, a member of Parliament representing Rathidaung township admitted that he got the information about the incident.

Even the western command spokesperson Brigadier Win Zaw Oo also confirmed the incident and stated that the navy exchanged fires as a retaliatory measure against the AA members.