Children in Arakan IDP camps face acute malnutrition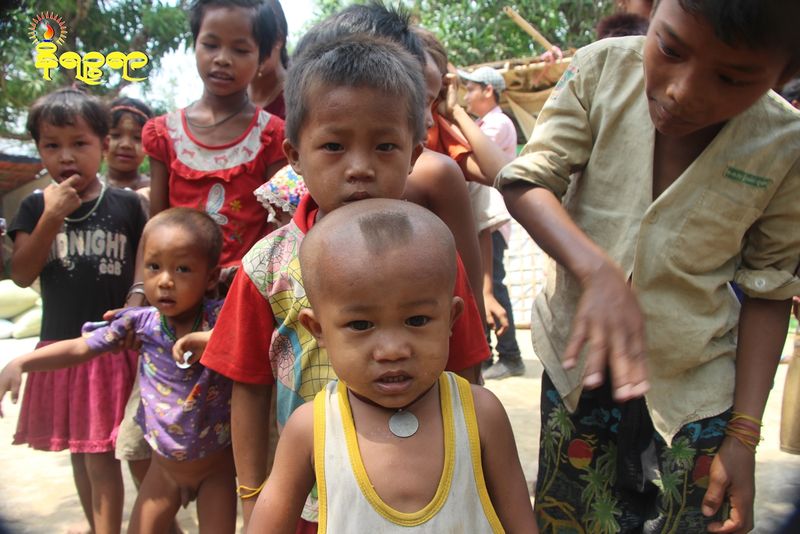 Narinjara News, 23 January 2020
A large number of children taking shelter in various camps for internally displaced persons across Arakan in western Myanmar are presently facing the problem of acute malnutrition due to insufficient supply of nutritious food items, said camp leaders and concerned parents.

U Wai Hla Aung, an in-charge of Tain Nyo IDP camp, where 3000 people are taking shelter, informed that the camped children are receiving two-time food items but no children specific foods are being served.

"In Tain Nyo camp, we have over 300 children under the age of five years and they are being offered normal food items. The minors are not getting other nourishment enhancing items like milk, fruits, snacks, biscuits etc. Moreover we have not received any vitamin tablets for them," said U Wai Hla Aung.

Most of the children in the camp turn weak, thin and pale showing their malnutrition. They are surviving with meals served in the morning and evening, but yet to get additional nourishments, said a mother of four children in the camp.

"How can we feed our babies necessary food intakes like meat, milk, pea etc? We are facing a difficult time now. Some children are even fighting illness because of severe malnutrition, she added.

She appealed to the government and international organizations like the UNICEF to come forward supporting the children in the camps of Rakhine.

Ko Zaw Zaw Tun, secretary of Rakhine Ethnic Congress (REC) informed that there are over 20,000 minor children (total number of inmates 104000) in various IDP camps in Rakhine and in most of the camps the children are suffering because of shortage in nutritious food items.

Ma Hla Oo from War Daung IDP camp in Kyauk Taw township stated that the children are not only suffering from the shortage of healthy food items, but also lack of health care and schooling.

A Rakhine government official, on the condition of anonymity disclosed that the children in the camps continue suffering from the malnutrition. However, he denied to reveal any statistics in this regard.

Arakan has been witnessing a war by Arakan Army for the great autonomy under the Myanmar Union government. As the Myanmar army personnel start operations against the AA members, thousands of residents along with their children had to leave their villages in the last few months to take shelter in the make-shift camps. Few of them have returned to their villages but many remain in the camps.