People displaced by fighting in Kyauktaw increases by 4,000 in one week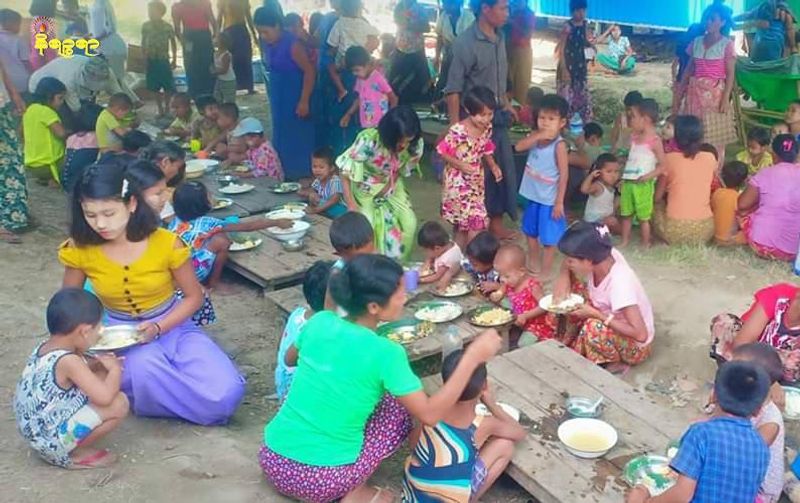 Saung Zar Chi
Narinjara News, 19 March 2020

Up to 4,000 people in Kyauktaw Township have been newly displaced over the course of one week, it has been reported. Among them, approximately 2,000 are in Kyauktaw town, with about 2,000 seeking safely in surrounding villages.

According to the emergency relief committee secretary U Maung Tun Kin, a number of different settlements have sprung up within Kyauktaw town. 1,704 IDPs are staying in open camps,107 in Kan Kyi Shin Monastery, approximately 100 in Tharthanar Biman Monastery and about 100 ethnic Mro in a Christian church.

U Maung Tun Kin explained the situation to Narinjara. Outside the main town the other 2000 IDPs have sought shelter in the following villages: Shin Kyan, Weh Kyi Taung, Ywar Thit, San Thar Pyin, Taung Hmu See, Tha Pone, Za Lein Taung, Wa Pyan, Lin Kwee and Kyin Kyi.

"At present their main concern is not so much shelter, but the main difficulties they face are food, drinking and household water, and toilets. They've said about 2,000 IDPs will come to Kyauktaw town from the surrounding area on March 20. On Sunday we shipped 200 bags of rice, chillies, oil, salt, 600 vis of dried fish to be distributed for those 2000 IDPs outside the town,"he said.

Amongst those 4,000, the 107 IDPs residing in Kan Kyi Shin monastery had fled their homes in January from other areas of Rakhine. The remaining IDPs, began to arrive in Kyauktaw on March 11 having fled from Laung Shey, Mee Wa, Tin Ma, Pyaing Taing, Khun Zay, Thar Si, Myauk Taung, Kyaw Shwee Pyin, Aung Thar Yar, Mon Than Pyin and Mar Lar villages.

There are plans that separate locations will be assigned to the 2,000 IDPs set to arrive in Kyauktaw town on March 20– Tharthana Biman school, Kan Kyi Shin Monastery, one open air IDP camp, the hall of no. 2 high school, and other places.

U Oo Tun Win, the MP for Kyauktaw Township spoke with Narinjara. "Up until now, the fighting has not yet ceased. The security situation in villages along the Kaladan River in Kyauktaw continues to deteriorate. What is for certain is that this problem shows absolutely no sign of resolution. They have all come to Kyauktaw town, and there is difficulty providing food and clothing for them. Its possible the situation will further deteriorate in the future" he said.

U Oo Tun Win called on international organisations and local civil society groups to come together to provide held and assistance for the IDPs.

According to the Rakhine Ethnic Congress (REC), the number of people in Rakhine State displaced from their homes due to the conflict between the Arakan Army and the Myanmar Tatmadaw has reached over 120,000.