Shelter urgently needed for over 1,600 IDPs in Minbya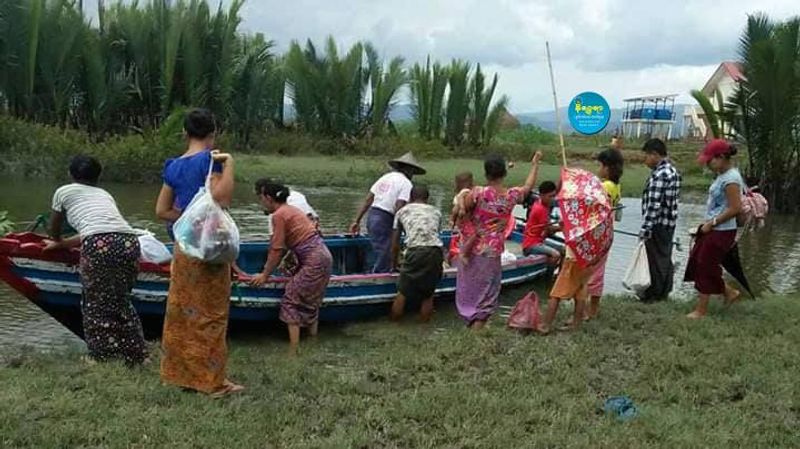 Man Yu Kyaw (Shwe Wa Mye)
Sittwe, 7 May 2020
Over 1,600 IDPs in Minbya Township urgently require shelter and housing, after arriving in two villages, Ann Thar and Thay Kan.

There are currently 300 people in Ann Thar village, and over 1,300 people in Thay Kan, where they are sleeping in the grounds of monasteries, schools as well as in relatives houses.

Daw Ma Thein Khaing, who fled from Hpar Pyo Village to Ann Thar village described the difficulties she and her family face. "We are having to sleep on the bare earth, its going to get much worse when the rains arrive. I don't know what we will do. We don't dare go back to our village. What are we going to do for food? We are just living on the dirt. I am really worried about the coming rainy season. The children are sick and have sores. One of my grandsons is sick with fever and has to sleep on the bare earth", she said.

Those displaced are originally from Hpar Pyo, Tha Lu Chaung, Seik Ta Ra, Pyaing Cha and Oe Pone Taung villages and other surrounding villages. Fighting began in August 2019 and has forced them to abandon all their possessions and leave their homes.

Mr Ann Thar Gyi, leader of a local charitable group, Thingarha Kan Lettkhati group explained the problems the IDPs are facing. "They really need shelter – the rains are about to come. At the moment they're just sleeping on bits of tarpaulin or whatever they can find, laid out on the ground. At the very least, we need simple shelters made up of one or two lengths of bamboo. They're now living in the grounds of the schools and monasteries. They have to sleep on the bare earth" he said.

He also said the people are facing difficulties concerning food and water.

On April 30 the Rakhine Ethnic Congress estimated that there are over 160,000 people displaced due to the conflict in Rakhine State.