Food supplies cut as donors too afraid to travel to Zay Di Pyin Camp, Ponnargyun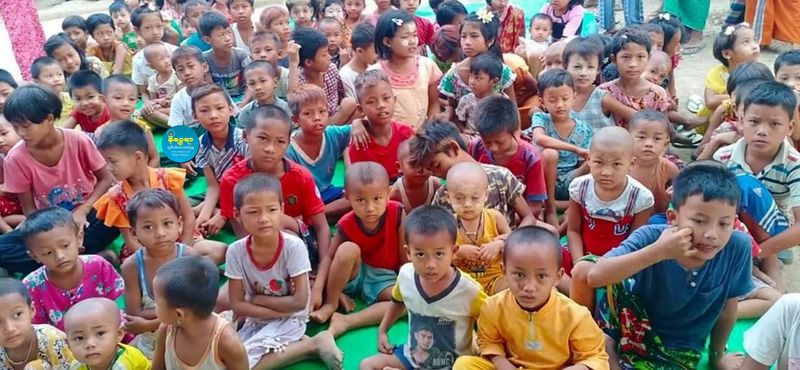 Saung Zar Chie
Narinjara News, 17 May 2020
Increased checks and searches on routes leading to Zay Di Pyin IDP Camp has meant private donors and philanthropic groups have been unable to travel to provide support and assistance. Over 1,300 people staying in the camp in Ponnakyun Township are facing food shortages according to head abbot U Thu Wanna, responsible for the camp.
"This area isn't stable, there are issues related to security so they carry out stop and searches on the road here. There are many private donors and groups that want to come and help but can't because they're afraid. International organisations haven't come either – they said they would but no one's come yet. I think its because the government doesn't allow them to come here," Head Abbot U Thu Wanna explained to Narinjara.
Many people are unaware of the existence of Zay Di Pyin IDP camp, and the government has provided nothing in the way of help or assistance, the monk said.

The camp has a population of 1,283 people, 274 households. Many people have fled various villages in the surrounding area including Pauk Taw Pyin, Aung Baung Taw, Kyet Sar Ta Linn, Kan Chaung and Pein Ni Daw.
Ponnargyun State Hluttaw MP U Aung Than Tin explained that the camp wasn't recognized by the government and therefore had not received any aid. He knew that the camp population was slowly reducing, he said.
U Aung Kyaw, an IDP in Zay Di Pyin Camp talked to Narinjara. "Access to food, water and shelter is really difficult. If someone is sick then it's difficult to get the medicine. My diet is potatoes and dried fish, and even that isn't a regular meal. When we fled our homes there was fighting in the hills close to the village. We could hear the sound of shooting from both sides. They were fighting only about 10 minutes walk away from the village. They used aircraft to bomb the hill where our village monastery is. After that happened we were all afraid and left our homes," he said.
The entire village population abandoned their homes and fled on March 21. Since then, the Tatmadaw has stationed in the village and people think that it will problematic if they return, U Aung Kyaw explained.
One monk who fled Pauk Taw Pyin and is now staying in Zay Di Pyin monastery told Narinjara about the difficulties donors face if they come. "The road network is shut down, donors are afraid and don't dare to come. Donors from Sittwe get stopped at Kyauktan gate when leaving the town and they are afraid problems might arise when they are searched. Coming by speed boat, they have to pass Pauk Taw Pyin. There are soldiers patrolling the village and surrounding areas, and people are worried if they pass there they will be arrested. For all these reasons, no one is coming to provide assistance anymore" the monk explained.
Daw Phyu Phyu who went to Zay Di Pyin on May 4 to provide assistance spoke with Narinjara. "We couldn't go by road as it wasn't safe, so we had to go by boat along the river. At the village the IDPs don't have toilets, drinking water, and there aren't enough shelters for the IDPs. There is no place for women to wash. The government has a duty to provide these things. The IDPs have had to make shelter using coconut branches," she said.
IDPs began to settle in Zay Di Pyin Camp at the beginning of March this year.
In Rakhine State over 160,000 IDPs have been forced to flee their homes due to fighting between the Arakan Army (AA) and the Tatmadaw, according to the Rakhine Ethnic Congress latest announcement on April 30.