49 people rescued from Sauk Kat village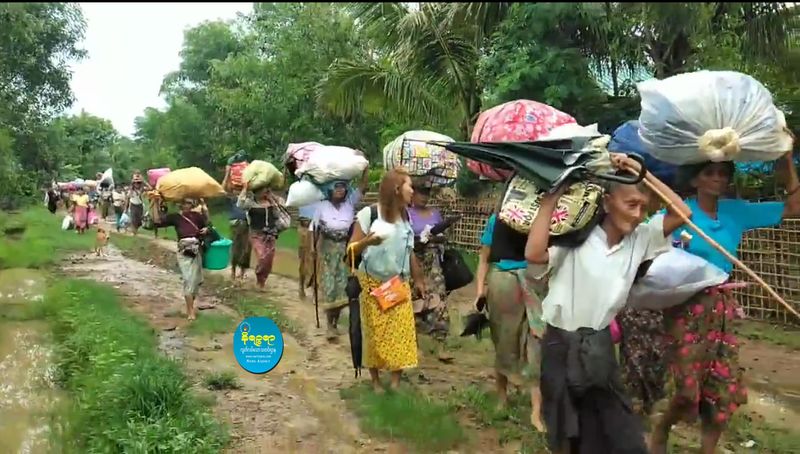 Saung Zarchi

Narinjara News, 23 June 2020
49 elderly persons and young children have been rescued at around 10 am on Saturday after being trapped in Rathedaung's Sauk Kat village.
The rescue operation was carried out by a group of eight monks and local charitable welfare groups, according to Rathedaung town's Ko Bekkhagar.
"Our charitable groups and eight monks went to get them out of there. Some of the elderly were unable to walk so they had to be carried on bamboo poles. We got there by boat but then had to go by foot, step by step, to carry them out. It was raining hard so it was difficult to get them," Ko Bekkhagar told Narinjara.
He explained that the elderly and children evacuated arrived in Rathedaung town at around 4pm and had taken up shelter in the town's sports hall.
Most people from Sauk Kat had already fled to either Rathedaung town or other villages in the surrounding area after Tatmadaw troops entered the village on June 11, although 54 elderly persons and young children and those unable to escape were left behind.
Sauk Kat has 105 households, a population of around 500 people.
Ko Bekkhagar explained that 49 people out of 54 were rescued, the remaining five left behind in.
"Five people were left behind. We asked them to come but they didn't want to. I don't know why. They wanted to stay there so we left them. Amongst them is one man aged 40 who is mentally challenged, and there are four women all over 60," he said.
U Kin Maung Lat, the National Assembly representative for Rathedaung township, and State Hluttaw representative U Tin Maung Win obtained permission to rescue the women and children from the Rakhine state Ministry of Security and Border Affairs.
Fighting had occurred between the Tatmadaw and the AA in nearby Aung Thar Si village on June 11 and subsequently Tatmadaw troops have stationed themselves in the village and are still there, according to local villagers.