Three reasons why thirty thousand people flee their homes in Ratheduang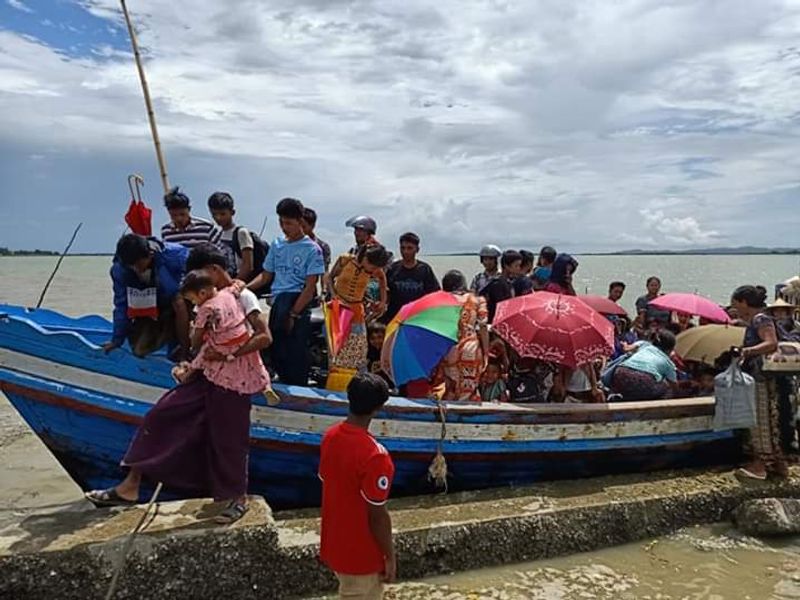 Ein Soe Hpyu
Narinjara News, 3 July 2020
Three reasons have forced over thirty thousand people to leave their homes in Rathedaung township, according to Rakhine state constituency (6) lawmaker, U Kin Maung Lat.
Those reasons are the circulation of an official letter stating that clearance operations would be conducted in the Kyauktan area; that villages would be shelled and shot at, and that soldiers would enter villages firing indiscriminately, he said.
U Kin Maung Lat represents Rathedaung and Ponnarkyun constituencies (6) in the National Assembly.
"There are currently over 30,000 people displaced. There are three reasons why people have fled. First, people became extremely concerned over the letter which stated that clearance operations would be conducted. Secondly, shelling and shooting into village, and the third reason being troops entering villages and shooting off their guns. For these reasons, people have fled in fear to seek safety in places including the towns of Sittwe, Buthidaung and Rathedaung" U Kin Maung Lat explained.
On June 24 the Tatmadaw issued a letter to over forty local administrators stating that clearance operations in the Kyauktan area would commence. Residents from over twenty villages fled in fear.
Residents from six villages in the vicinity of Kyein Thar also fled as troops move in. In the southern area of Rathedaung township in the Mu Si Kyaunt area, four or five villages have been deserted after troops have entered the villages firing their rifles, he told Narinjara.
65-year-old Daw Oo Saw Thein is amongst those who have fled to Sittwe from Shwe Laung Tin village in Mu Si Kyunt under Rathedaung township said, "We had to run when the soldiers entered the village. They were shooting their guns when they came in. I am old and I can't run, my daughter's family had to take me. We had to crouch down by the side of the road as they were shooting their guns. We fled in fear."
Ko Kyaw Min Kaing who represents and assists people who have been displaced from their homes in Rathedaung township estimated that approximately 20,00 people have arrived in Sittwe town.
"There are around 20,00 IDPs who have arrived in Sittwe. They have to stay in the monasteries. I estimate that around 20,000 people in Rathedaung Township have fled their homes following the letter stating that there would be clearance operations. Although they said they retracted the letter, it had been announced by the media. There is a huge discrepancy between the retraction of the statement and the impact it is having on the ground. The government is being reckless," Ko Kyaw Min Kaing said.
People have been displaced not only to Sittwe and Rathedaung towns but also to Ponnarkyun township, he continued.
Rakhine state Minister of Border Security and Border Affairs Colonel Min Than had issued a statement on June 24 retracting the statement made on the June 27.
Although the statement was withdrawn, local residents have reported they continue to leave the area over concerns for their safety. The Rakhine Ethnic Congress has announced the total number of people displaced by the conflict amounts to nearly 170,000 people.