Thirteen people rescued from Rathedaung's Kyein Karli but one dead body still missing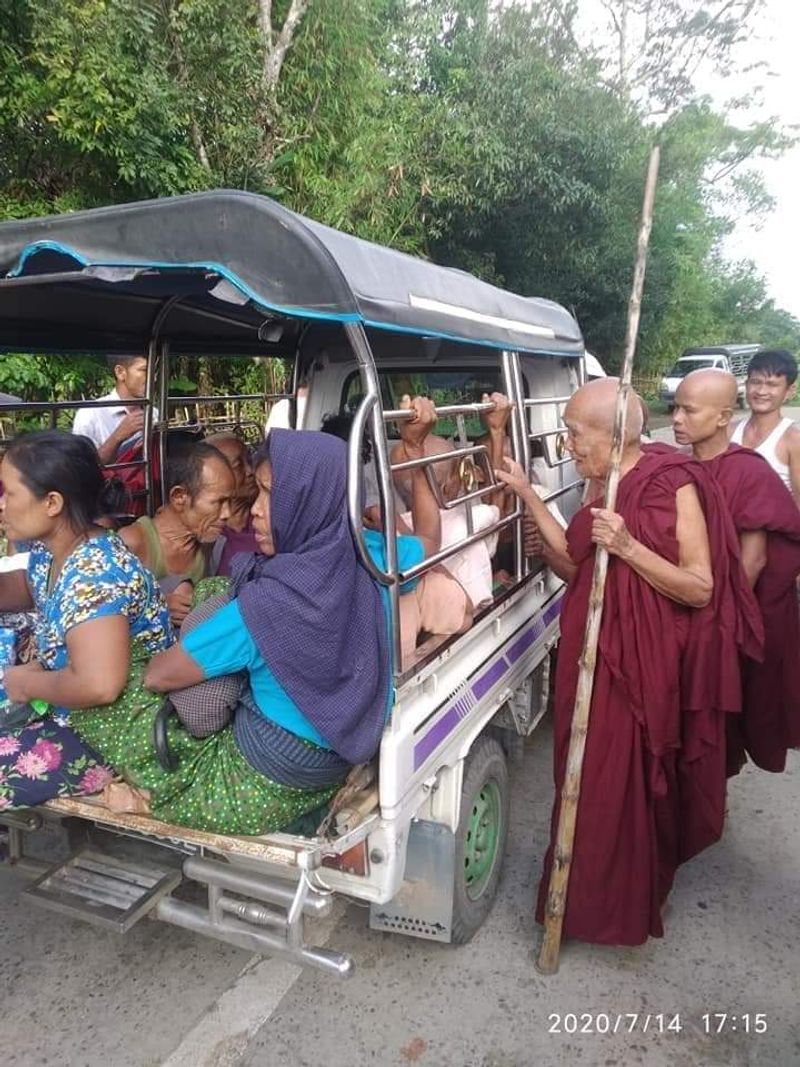 Saung Zar Kyi

Narinjara News,15 July 2020
Thirteen people, including nine elderly persons, were rescued yesterday evening after having been trapped in Kyein Kali due to fighting in the area. However the dead body of U Tun Maung Sein has not yet been retrieved, according to the village administrator U Tun Tini Soe.
"We were able to rescue the elderly and those villagers that had been arrested, a total of thirteen people. However the body of murdered U Tun Maung Sein has not yet been found," he said when he spoke with Narinjara this evening.
Most villagers fled Kyein Karli after fighting erupted nearby on July 13, although a few remained behind. U Tun Maung, aged 61 and owned a grocery store, was shot by soldiers, according to his wife Daw U Sein Nyunt.
News that another villager was also killed besides U Tun Maung Sein as well as some of the elderly and sick left behind being wounded quickly spread on social media, causing family members to become increasingly alarmed and anxious over the fate of their loved ones.
The Tatmadaw's True News information unit chairman General Tun Nyi Nyi, and secretary Brigadier General Zaw Min Tun as well as Rakhine State Minister for Security and Border Affairs Colonel Min Than were repeatedly called by Narinjara but we were unable to contact them. However in an interview with Myanmar Now True News chairman General Tun Nyi Nyi denied reports of the death.
Amidst this confusing situation, a local charitable group from Maungdaw and local MPs were able to launch a rescue mission this evening to the village to rescue those left behind, according to Daw Kin Saw Way Pyithu Hluttaw Representative for Rathedaung township.
"They were able to enter Kyein Karli and get them out. Amongst them were nine elderly persons and one 27-year old man suffering from chronic illness. Three youth who had been detained were also brought back on bail. We were able to rescue them, a total of thirteen people. They went by car. There are still soldiers in the village. I heard that they couldn't find the body of the dead man, but they managed to rescue all those living," she told Narinjara.
Amongst the Kyein Karli villagers who were released include U Ar Daung (32), U Nay Htet Oo (30) and Maung Ah Pauk Chay (14). The three had been arrested by Tatmadaw troops entering the village following a shooting nearby at around 5 pm on July 13, according to Kyein Karli village administrator U Tun Tin Soe.
Those rescued have been sent to Sin Paik village.
Following a shootout at around 9am on July 13 in the vicinty, the village was shelled and shot at with small arms, after which most people fled in fear, according to local residents.
During the shelling, U Maung Tun Win (47) who was hiding underneath his house, and Daw Oo Myint Gyi (33) and their son Maung nay Min san (11) received minor injuries from shrapnel.
Residents of Kyein Karli, a total of 142 households, around 650 people, have fled to Done Paik, Sin Paik, Ah Ngu Maw, Lauing Chaung and Than Chaung in Rathedaung township, as well as Sittwe town.