Emergency assistance needed for 1,500 people after Kyauktaw villages burned to the ground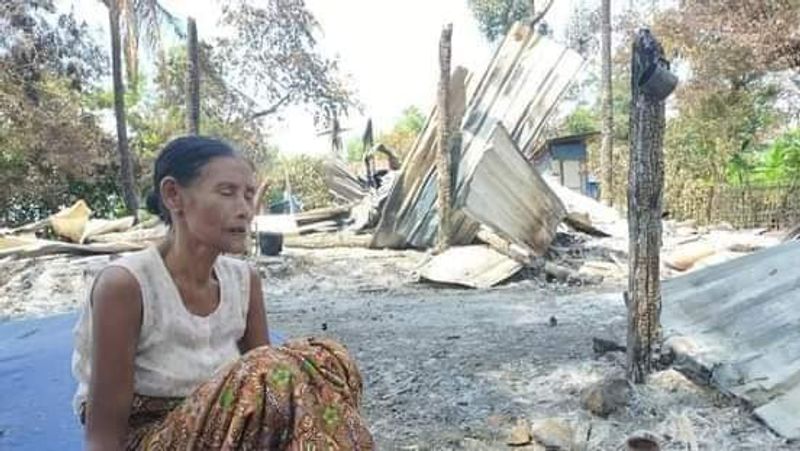 Ein Soe Hpyu
Narinjara News 7, September 2020
Nearly 1,500 villagers in Taungpauk and Hpayar Paung villages in Kyauktaw Township, Rakhine State, have been forced to flee after fire destroyed their homes. They are in urgent need of emergency assistance.
At present, the villagers have taken refuge in nearby village monasteries but are reportedly facing numerous difficulties.
Daw Hnin Wai Soe, a primary school teacher from Hpayar Paung village, said: "living conditions are very difficult in the temporary places that have been arranged for us. There are people who help, so we can get bits and pieces to eat. The main problem is that when we fled we only came with the clothes on our backs, so we have nothing to change into. Children and women in particular are struggling. I wondered if it would be better if we just died. There is no place to live. There is no food. We feel like our lives are no longer worth anything," she told the Narinjara this morning.
It is not possible to provide clothing to 1,500 people displaced staying in the villages. "We have a lot of problems just living in one set of clothes," she said.
"I escaped and swam from my village to Ponnar village. There were children and elderly people who had to flee with us like that. There are girls in the market begging for money. There is no money. They came empty-handed and could not buy anything. We all sleep in rows at the monastery. I want to say thankyou to the government - up until now, they have done absolutely nothing for the people. Thank you for not making us want to live. That's all I want to say, "she added.
The fire destroyed 69 houses in Taungpauk village and 110 houses in Paya Paung village, which lies about 3 miles to the south in Kyauktaw Township, villagers said.
Currently, 125 families (503 people) are taking refuge in Shwe Hlaing village and 85 families (320 people) are taking refuge in Thawin Kaing village.
Similarly, 53 households (236 people) have taken temporary refuge in Sin Oe Chaing village, 42 households in Kyauktan village (180 people) and 31 households (56 people) in Sit Aung village.
Kyauktaw Township National Assembly member U Myint Naing said, "needless to say there are a lot of things they need. They ran for their lives without anything. It is quite painful to see. I am trying to sort out the food problem. Mosquito nets have been donated and we are trying to sort out a place for them to sleep. The government has provided no assistance whatsoever in this regard. We, the MPs, are trying to meet their basic necessities," he said.
He explained that priority is being given to sleeping space and food. U Myint Naing appealed to volunteers to help as much as they could, as they had a lot of needs as they were only able to flee with clothes on their backs.
According to eyewitnesses, a group of Tatmadaw troops entered Hpayar Paung and Taung Pauk villages at around 7 pm on September 3 and began shooting and set alight to the houses. However, Major General Zaw Min Tun, chairman of the Tatmadaw's True News information unit, denied any wrongdoing at a press conference in Naypyidaw on the morning of September 4.