The junta forces forced IDPs to transport rice to army outposts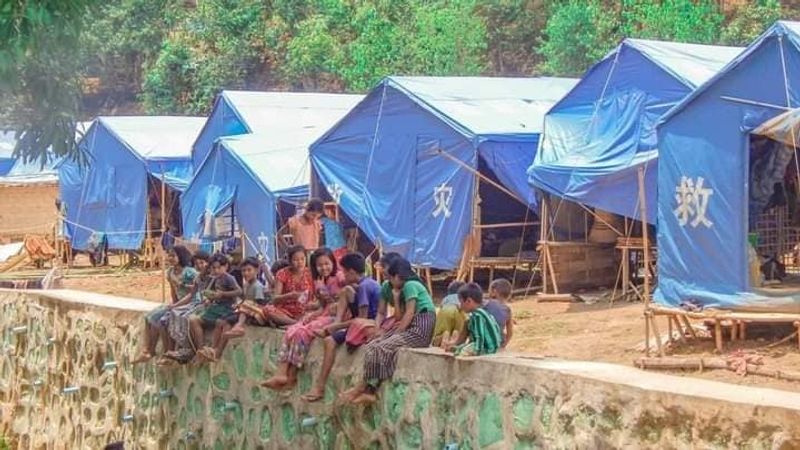 Narinjara News, January 13, 2023
IDPs in Paletwa town of Chin state are forced to provide food supplies for the military according to IDPs.
"Nobody wants to go. But they are forced to go. If we refuse to go then we worry that we will be arrested and tortured. Both men and women have to carry the rice," said a refugee who did not want to be named.
Junta forces collect food in the military camps from Paletwa township and transport the rice by car from Paletwa to Ahbaungthar village. Then IDPs are forced bring food from Ahbaungthar village to the edge of Supoketaung village.
"We have to transport the rice through Ahbaungthar village, passing Khaweabat village and near Supoketaung. About 3 miles away. Each person has to carry a bag of two baskets of rice. They only pay 7,000 kyats each, and 10,000 kyats for fuel for those who carry by motorbikes," he said.
A woman who participated in the delivery of rice said, "Men and women in their 30s participate in the military's rice delivery. I didn't want to go but I was forced yesterday, so I had to go. Some women are tired and shed tears," she said.
In order to transport the rice, on January 8th, the people in charge of the IDP camps were summoned to the General Administration Department of Paletwa town and told to release 5 IDPs from each IDP camp to transport the rice rations for the military.
Regarding the matter, an official of the Paletwa refugee camp said, "We were not forced. We were given money to carry them. It was less. There was no limit to how many people we could have. The camp leaders were called and told by the General Administration, who dares to say that they would not agree?"
The military rice rations are full in two warehouses of Ahbaungthar village, and all those sacks of rice have to be sent from the IDPs near Supoketaung and are not allowed to go beyond that point, the IDPs said.
In August last year, the Arakan Army (AA) and the Myanmar junta force fought fiercely on the road where the refugees are currently transporting rice.
Currently there are five refugee camps in Paletwa town, where thousands of refugees are sheltering.
The junta forces forces IDPs to transport the ration (rice) to army outposts with a minimal payment. The Myanmar army pretends that their puny payments for rice transportation are real wages. In reality it is thinly-disguised forced labour.