Demand raise to resume internet service in Rakhine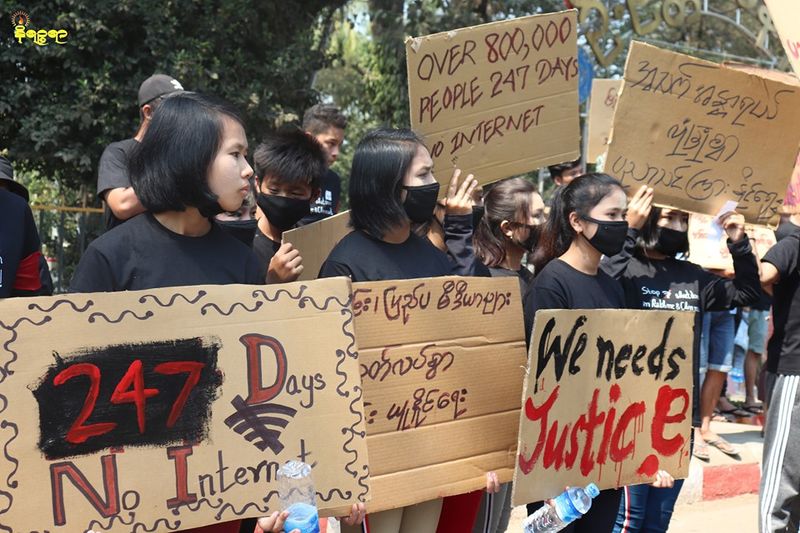 Narinjara News, 22 February 2020
Demonstrations in three towns of Arakan were observed today calling on the authority to resume the internet service. The service was shut down by the government in last June.

The student unions staged demonstrations in the capital city of Sittwe, the Shwe gas project town (Kyauk Pru) and southern gate town (Taungup) were primarily led by students' groups from different colleges and universities.

In the State capital city, over 200 students gathered at Winkabar ground (in down town Sittwe) and marched on the streets chanting slogans against the internet shutdown in Arakan and Chin State. The agitators also called on the government to allow media persons inside and outside countries to take inputs independently.

"The days of internet shutdown in our State has reached 200. It has affected various sectors including education, health, business etc. So we demand to resume the internet service immediately," said Ko Kyaw Hlaing Htay, in-charge of information department of Rakhine student union.

The internet shut down was clamped on 21 June 2019. Recently the service was resumed in Maungtaw, Buthidaung, Rathidaung, Myebon (of Arakan) and Paletwa township of Chin State on 1 September. The government re-ordered the ban on 3 February.

In Taungup, several students gathered in front of the degree collage gate and marched towards the streets. They hold posters, signboards and banners in favour of their demands.

At the same time, the student union of Kyauk Pru led the demonstration where many other youths participated in demonstration demanding an early resumption of internet services. They marched from U Ottama garden to Kyauk Pru downtown area.

"Restricted internet services are a violation to people's rights, as it is mentioned in Article 19 of Human Rights Declaration. The government had to shut down the services for some days," said student leader Ko Kyaw Hlaing Htay.