Rakhine Ethnic Congress issues Corona emergency demands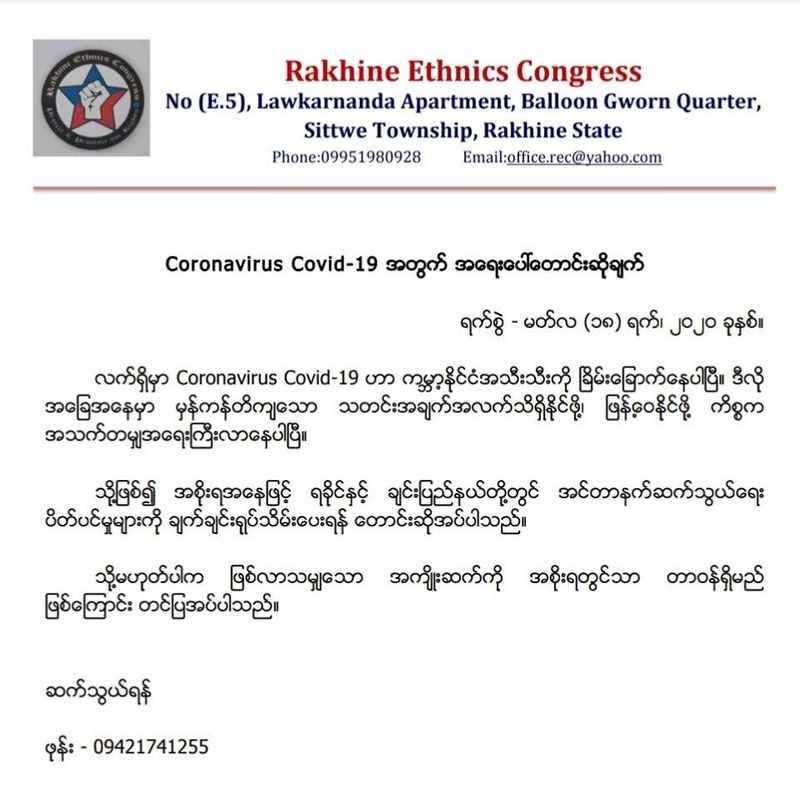 Saung Zar Gyi
Narinjara News, 22 March 2020
As Corona virus Covid-19 spreads across the world, the Rakhine Ethnic Congress (REC) has released a statement dated March 18 to immediately withdraw internet restrictions, in order to obtain, share and disseminate accurate information in Rakhine and Chin States.
REC Secretary U Zaw Zaw Tun said, "People are living together in crowded, cramped conditions in camps. If cases of the disease do occur it can spread rapidly. At present people in the camps are simply unaware of the dangers of this virus and how contagious it is. People are simply unable to access the required information in time if the internet is shut down. If services are resumed, people will be able to access information and therefore have ways to better prepare and protect themselves against the virus."
Corona virus Covid-19 is presently threatening different countries of the world, and access and dissemination of accurate information in this kind of situation has become a matter of life or death. AS such the REC statement demands that the government withdraws internet restrictions in Rakhine and Chin States immediately. Otherwise, the statement said, the government will bear responsibility for whatever consequences may occur.
"At a time like this, the government should not shut down the internet, and services should be resumed as quickly as possible" U Zaw Zaw Tun added.
U Tun Win, Member of Parliament for Kyauktaw Township also emphasised the need to resume internet services so that people in the IDP camps in Rakhine have access to real time information about how to tackle and avoid the Corona virus.
"There is a need for everyone to understand and access information concerning the spread of this disease. People need to know in real time what is happening and where. The situation is of concern at present with internet service shut down IDPs are simply unaware of the risks. Shutting down the internet is unacceptable. There is a need for people to be able to access information easily, and therefore the internet needs to be available" he said.
Daw Htoot May, also a Member of Parliament in the National Assembly said, "Since we are in a situation where people do not have information about the Corona virus, or about other peoples difficulties, the Rakhine State Government has a key responsibility to raise this matter with the central government. If something happens in places which face restrictions on internet services due to the government blackout, then they will assume responsibility."
Currently, there are up to 150,000 IDPs in Rakhine State, and since most are unable to access the internet they are generally ill-informed concerning the Corona virus, Ko Zaw Zaw Tun said.