Arrested prominent Arakanese nationals sent to police remand for fourth time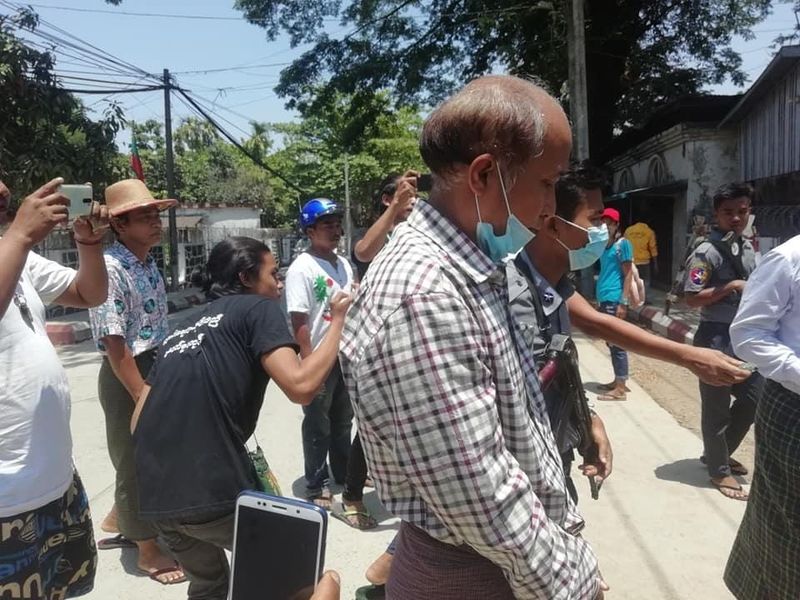 Narinjara News, 17 June 2020

Taungup based four prominent persons, who were accused by the police of maintaining links with armed outfits, appeared in the township court in the southern part of Rakhine State of western Myanmar where they were remanded to police custody for the fourth time.

Rakhine National Party's Taungup township vice-chairman U Wai Thaung, township municipal committee chairman U Zaya Kyaw with his youngest brother U Si Thu Kyaw Zan alias Michael and former chairman of township municipal committee U San Ngwe were taken to the Thandwe township court yesterday.

All of them have been charged under section 50 (a) and 52 (a) of Anti-Terrorism Law. Zaya Kyaw was arrested on 9 May, where as San Ngwe was detained next day. On the other hand, Wai Thaung was arrested on 11 May and Si Thu Kyaw Zan was detained on 24 May.


Family sources claimed that nobody knows why they were picked up by the police.
They have been produced at the township court repeatedly for necessary remands, added lawyer Thingi Maung, who is fighting for all of them.

Wai Thaung, Zaya Kyaw and San Ngwe were earlier produced at the court on 11 May and the judge allowed a two-week remand for them. They were later moved to Yangon for more interrogations. On 24 May, north Okkalapa township court of Yangon gave second remand for them.

Later they along with Si Thu Kyaw Zan were produced at Thandwe township court on 2 June and lately they all were taken to the court on 16 June. The court has fixed next hearing date on 30 June.


Senior lawyer U Tin Nyo, who is helping the accused persons in the case, believes that the authority was looking for important facts about their involvement with terrorists.
"If found guilty, they will be punished, otherwise they have to be released. So within the stipulated period, the police need to file the charge sheet against them. If the police fail, they will be released according to the legal provisions," added the senior lawyer.