A public interest case relating to five Kyaukseik villagers continues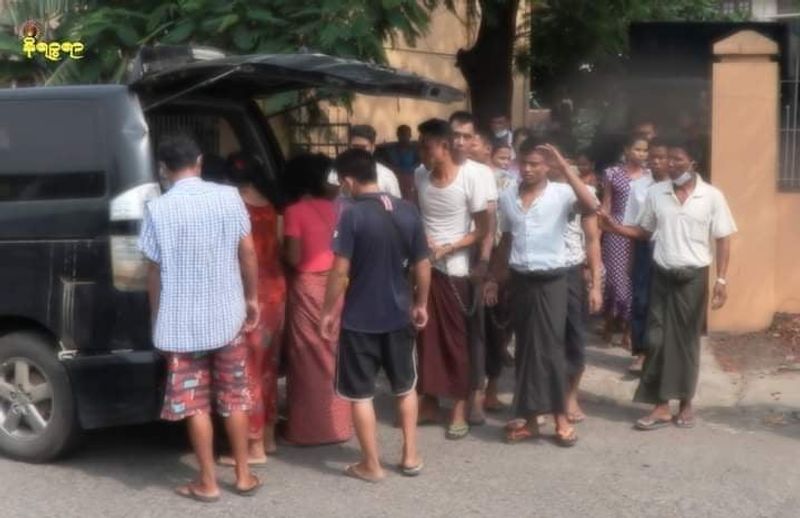 Narinjara News, 18 February 2022
The trial of five Kyaukseik villagers under Ponnaguan township, who were not released on occasion of the Union Day amnesty initiative, continues at Sittwe district court.
The accused villagers include Nyi Nyi Aung (24 years old), Myo Lin Oo (24), Maung Chay (24), Min Soe (38) and Kyaw Win Hein (22).
Six of the 13 prosecution witnesses in the case appeared during yesterday's trial, informed lawyer Hla Aung Thein. The rest will be produced on 3 March next.
The concerned Kyaukseik villagers were arrested on 19 April 2020 on suspicion of being linked with the Arakan Army (AA). They were tortured on a naval ship. The Burmese military has already taken actions against three sailors after a video of the torture went viral.
Captain Tint Naing Tun of LIB 505 base in Ponnaguan accused those five villagers under section 50 (j) of the anti-terrorism law and section 52 (a) of the penal code and the case was heard at Sittwe court on 22 May last year.
On 12 February, the State Administrative Council released a number of AA members and their associates honouring the diamond jubilee celebration of Union Day aiming for a lasting peace in Myanmar. But those five villagers were not released which made the people confused about the move.
Khin Hla Wai, wife of detainee Nyi Nyi Aung, expressed her anger over his continued detention.
"It is sad that my husband along with some others are still in jail. I want justice and equal rights for every citizen," she stated while responding to Narinjara News.
According to author Wai Hin Aung, who is supporting the political prisoners in Rakhine State, revealed that over 70 people are still behind bars under various cases relating to AA activities.

Most of the detainees are made responsible for terror activities as they allegedly supported the members of ULA / AA during the conflicts between the AA members and Burmese army personnel that began in 2018.