Stranded villagers rescued by Myanmar Red Cross Society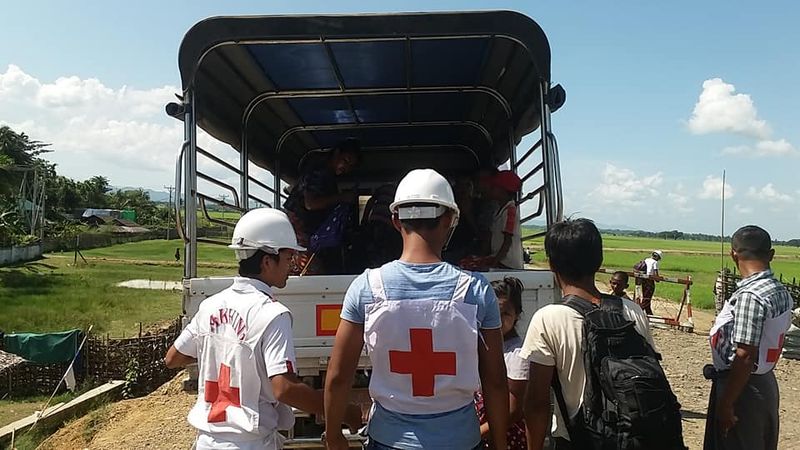 Narinjara News, 9 October 2019
Myanmar Red Cross Society (MRCS) has rescued eleven stranded villagers
on Tuesday from Tayet Byin locality in the southeastern part of
Buthidaung, which is 80 miles north of Arakanese capital city of
Sittwe.

U Kyaw Myint Wai, in charge of MRCS in Buthidaung, informed that a
team went to Tayet Byin village to rescue those villagers stranded due
to encounters. The team started at around 9 am by a car after the MRCS
received permission from the township authority to travel to that
locality.

"When we reached Sai Din bridge near to the village, the security
forces handed over 11 villagers to us and we brought them to the IDP
camp at Buthidaung Landma monastery," said U Kyaw Myint Wai.

Those 11 villagers, including three women, had stranded in the village
since 5 October last as Arakan Army(AA) members started attacking the
security forces (Tatmadaw) at Sai Din bridge locality located between
Buthidaung and Rathidaung township.

Most of the Tayet Byin residents ran away from the village as the
fighting continued between Tatmadaw and AA. Only few elders and
children remained in the village.

"We remained in our village for two days and faced many difficulties.
The security personnel closely watched our activities. So we could not
even use our bathrooms on time. We were also concerned about our
security," said one of the rescued women.

MRCS in Buthidaung and ICRC have rescued over 50 stranded villagers
from various localities under Buthidaung township on different
occasions, claimed U Kyaw Myint Wai.

Now Buthidaung Landma monastery gives shelter to 692 individuals
including 374 females hailing from rural areas in its IDP camp.