RFA journalist wins photography prize documenting the life story of an AA female soldier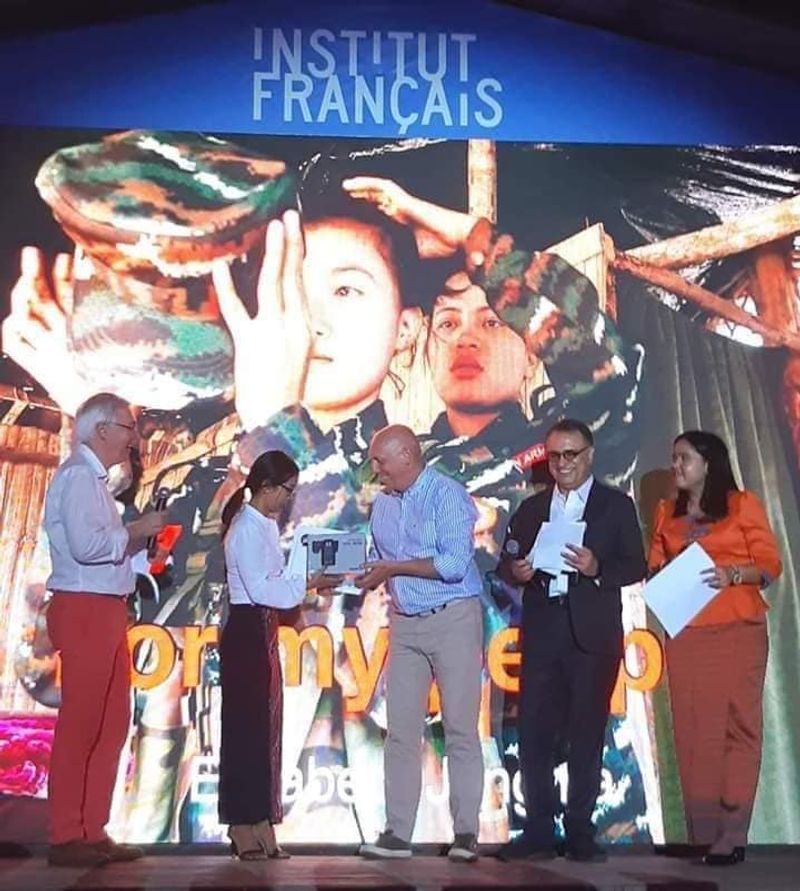 Man Yu Kyaw (Shwe Wa Mye)
Sittwe, February 25th, 2020

RFA journalist Elizabeth Jangma has received a photography award for documenting the life of a woman soldier serving in the Arakan Army (AA).

Ms Jangma who is based in Kachin State has won an award for Best Photo Essay with her entry 'For My People' at the Yangon Photo Festival, Institut Français de Birmanie in Yangon. The festival which has been going for 12 years, is exhibiting between February 19th and March 21st.

"There is still a real need to portray the bravery of women in our country. So when I saw the courage of these women, I decided I would do a photographic story. And here the women are, as I took them in the photos. I wanted to show them at work, what they're doing. My aim was to capture their determination and spirit and what it means to be a woman" Elizabeth Jangma told Narinjara.

The photo essay focuses on a female soldier running a military camp for women soldiers in the Arakan Army (AA), she said.

"I photographed her there, amongst the women, a portrayal and profile of what she does, how she came to be there, undertaking these duties, and how she manages the other women" she said.

Awards for both Best Professional Photographer and the Best Upcoming New Photographer were presented at the exhibition. Elizabeth Jangma was the recipient of the Best Professional Photographer.

"I didn't just want to show what life is like in the Arakan Army. Women join armed groups and the army, and women can be just as courageous as men. My aim was to capture this bravery and show it at the exhibition. Firstly, I am really happy and satisfied that I have been given the opportunity to exhibit this work, and secondly – regardless of whether or not I got an award, the main thing was being able to show my work, and I am so happy to have been given the opportunity to do so", Ms Jangma said.

The award was presented by a French photographer at the Institut Français de Birmanie in Yangon on the evening of February 23rd.

Rakhine based reporter Nu Nu Nwe (Danyawaddy) spoke to Narinjara concerning the award presented to Ms Elizabeth. "As a woman, I am so glad that she has been presented with this award, and for her bravery to go there herself and take these photographs. I myself feel inspired and motivated. You only achieve something when you try. And being a woman, I often feel discouragement. After seeing her, I hope that everyone will feel inspired, to be motivated and to try to believe that they can achieve. I personally admire her. She has showed that all women should not be discouraged and that they can succeed. For that reason I want to encourage everyone to believe in themselves and try" she told Narinjara.

At the festival, held for the 12th time in Yangon, the award for Best Upcoming Photographer was presented to Kyaw Zwar Tun, who's entry 'If Father Returns' won first prize, and Zaw Ma Ta whose entry 'Mizumi and Friends' won second prize.

As published on the Yangon Photo Festival's Facebook page, first prize for Professional Photographers Award was presented to Khun Li Ga with the entry 'Beauty Queen' and second prize was awarded to Ye Naing and Yan Moe Naing for their entry 'Wa Soe Moe Brain'.