Internet Connection Stopped in Civil War Affected Areas of Northern Rakhine State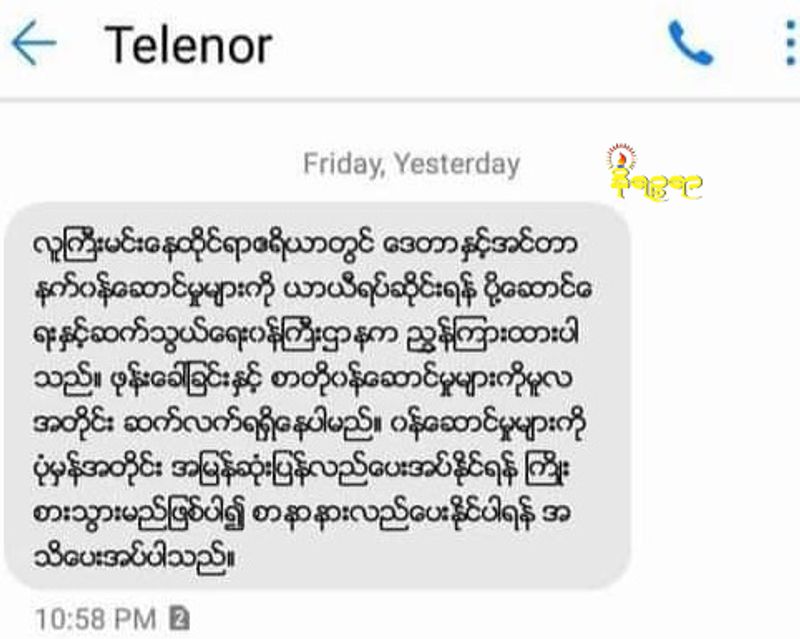 Thein Zaw ( Mgdaw), 22 June 2019:
Internet Connection and Internet Data Usage Services have reportedly been temporary banned in ongoing clashes affected townships such as Mrauk Oo, Kyauk Taw, Rathidaung, Minbra, Ponnagyut, Buthidaung and Maung Daw from Northern Rakhine State.

A Communication Operator from the lined department, on condition of anonymity, confirmed the temporary internet connection is not accessible including MPT, Mytel, Telenor and Oreoodo publics operator services in the clashes affected area But, he said that he was not aware of the root cause of the reason . He added that it was official direction from Transportation and Communication Ministry.

A local teacher from Southern Maung Daw said, "The internet line was stopped since June 20 at night about 11 p.m. There is no more connection and Facebook cannot be singed in, in Maung Daw and Buthidaung Township."

Meanwhile the residents from Mrauk Oo, Kyauk Taw and Rathidaung have also confirmed that they cannot access of face book anymore from this morning on and they are said to be concerned about the banning of the internet connection despite the arrests on civilians and escalation of the fighting between Tatmadaw and Arakan Army in the conflict affected areas.

Asking about the internet connection temporary prohibition, spokesperson from Myanmar Post and Telecommunication Department denied answering that he has retired from his position. Thus, Narinjara News cannot present the official perspectives from the government.