Rakhine Youths Call For Justice for the Killings of Civilians by Military Custody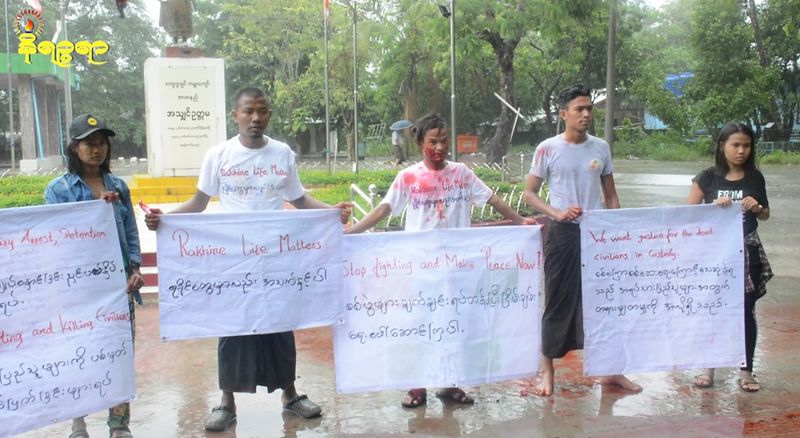 Manyu Kyaw, 2 July 2019

A group of Rakhine Youth demonstrated the performance with the aim of calling for justice following the death of innocent Rakhine civilians by (Myanmar Army) Military custody at Sittwe U Oottama Park yesterday.

An active Rakhine youth group leader, Ko Than Hla said " the main reason of the performance is to be seen obviously for the issues and challenges we are facing in Rakhine today. So, some Rakhine youths participated in it"

During the heavy raining performance, the youth group showed the holding the written posters such as 'We Need Justice for the Victims Civilians', ' Stop Killing the Innocent', ' Rakhine Life Matter', ' Stop Arrest on Innocent' 'Stop Torturing On Civilian', and ' Stop War & Bring Peace'.

Ma U Khin Thein, a young Rakhine girl who involved in performance told Narinjara News " The youths and civilians should not be used as the victims along with the violation of human rights at ongoing war. The basic human rights should be protected. We should have sympathy and freedom of moments here."

The suspicious arrest allegedly on Rakhine civilians as being the members of Arakan Army and the death of innocent civilians during the military custody is still significantly mounting in Rakhine State.